Chinese industrial robot maker Youibot is on a roll. Pulling in USD 15.5 million in its latest funding round led by SoftBank Ventures in May, the Shenzhen-based startup also had a robust year in 2020, completing multiple financing rounds and winning several awards for its ingenuity.
While probably best known for its disinfection robots deployed in Chinese hospitals, airports, and other public spaces, Youibot's strongest suit is in robots used in electronics manufacturing, an industry that's proven exceptional in more ways than one following disruptions during the global pandemic.
In 2020, China's industrial robotics market actually grew by 9.5%. With the Chinese government aiming to double domestic companies' market share from 30–40% to 70% by 2025, according to the country's five-year plan approved earlier this year, expect to see more growth and diversification as investments flow into the sector.
China is the world's largest robot buyer. . . 
Even before the pandemic, China was home to more industrial robots than the next four countries combined, per the International Federation of Robots (IFR). The country is also buying more units each year—more than twice that of Japan, which buys the world's second-highest number of robots.
Worldwide, most industrial robots are used for handling, assembly, and welding in complex manufacturing settings like for automobiles and electronics. Other industries do not even come close, but logistics, food, and other manufacturing areas have seen strong growth over the past few years.
In China, however, the largest and one of the fastest-growing industries is electronics. "For China, electronics are even more important than the automotive industry. If we look at the industrial robots installed in China, 32% go to the electronics and electrical industries, and only 24% go to automotive," said IFR's Dr. Susanne Bieller.
. . . But not the world's largest seller yet
Robot companies in China have exploded over the past decade, rising from just a few hundred to numbering in the thousands, with new entrants and investors every year, even during the pandemic.
China's biggest manufacturers of industrial robots, like Siasun, Estun, and Efort, lag behind international leaders, but Chinese firms have also gained ground by entering joint ventures or buying out international brands. In 2016, Chinese appliance maker Midea acquired Kuka and set up three joint ventures in 2018. ABB, Fanuc, and Yaskawa have all established joint ventures in China as well, although Yaskawa's joint venture with Midea folded in September 2020.
The top four firms globally—ABB, Kuka, Fanuc, and Yaskawa—account for over half of the market in China's robotics industry. Half of the remaining top ten players internationally are based in Japan.
"Historically, foreign brands were used for the most sophisticated applications," said Bieller. "For example, in the automotive industry, where you need a tight position and high rate of repeatability and speed, a large share of the sophisticated robots were imported, whereas robots for easier applications were supplied by domestic suppliers."
And while China may not be caught up on the domestic production side yet, this is changing, along with the kinds of robots China produces. "There is definitely a shift in that domestic suppliers can provide an increasing number of sophisticated types of robots," Bieller said.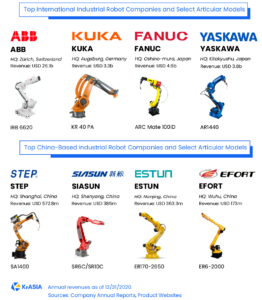 Falling robot prices have side effects on China's labor market
Industrial robot prices have fallen over the past few decades, more than halving in price since the 1990s. Some automated welders, one of the most in-demand types of industrial robots, start at around USD 5,000. That's significantly less than the average annual salary for a full-time welder in China. Employers face strong incentives to automate, and according to reports by the McKinsey Global Institute, automation could displace as many as 100 million workers in China by 2030.
In fact, since 2000, China has lost more manufacturing jobs than any other country, with automation eliminating around 550,000 manufacturing jobs, or about 1% of the country's current workforce. Data from China's National Bureau of Statistics showed the share of manufacturing declined from 22.7% to 17.3% in overall urban employment between 2014 and 2018. Many of China's displaced manufacturing workers have been absorbed by service industries. For example, blue-collar workers are moving from factories into food delivery. Meituan reported that factory workers represented the delivery heavyweight's top source of new riders during the pandemic.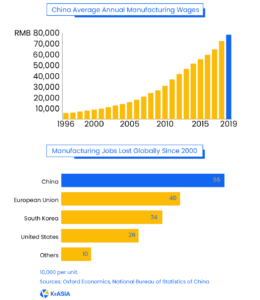 With rising labor costs in China, some manufacturing jobs that require a human touch have moved to countries in Southeast Asia. Many high-profile multinational firms, including Nike, LG, Adidas, and Samsung, have already relocated some or all of their China operations to Vietnam.
When strengths become weaknesses, and weaknesses become strengths
If the future of cost-effective manufacturing in China is shifting into mechanical hands, then the strength and growth potential of China's industrial robot market could lend it an iron edge for years to come. That, and its simultaneous push for innovation and investment in R&D.
Just last week, AI industrial robotics startup Mech-Mind raked in USD 100 million in its Series C funding round led by Meituan, propelling it into the ranks of China's best-funded in its category, with its solutions featuring machine vision algorithms and intelligent robot programming.
"We also see that AI technology is increasingly being used, and China is among the countries that are really pushing that," said Bieller. And even seemingly small advances in things like robots that can identify different kinds of objects, and adjust their grip accordingly, can have a huge impact on their deployment capabilities.
Investors are also increasingly paying attention to software-centric tools like robotic process automation (RPA). Last month, Chinese RPA startup Laiye raised USD 50 million in its Series C+ round and has become somewhat of a poster child for ways in which automation tools can dramatically change how businesses and communities function.
Earlier this year, manufacturing software startup Black Lake's Series C funding round made headlines as well. Though China's RPA market is still nascent compared to more established players, it too is gaining momentum as China's manufacturing robotics ecosystem grows in leaps and bounds.