Alibaba's Taobao is seen as a massive online platform where Chinese shoppers can access a multitude of competitively priced products, discounts, and good deals. With over 726 million monthly active users (MAUs), it is China's largest e-commerce site.
However, what is perhaps a bit less known, is that Taobao is also a one-stop-shop for an underbelly of customer to customer (C2C) services, ranging from home cleaning to even "antivirus removal" packages. What's more, a significant portion of such services falls into the online informal economy, which is loosely monitored and largely untaxed.
Why Taobao?
Taobao might not be the best-suited platform for service providers, compared to Meituan, China's biggest on-demand service platform, or 58.com, the country's largest online classifieds platform.
Because Taobao specializes in product sales, service providers need to manipulate Taobao's existing features to fit their needs. However, service providers have identified Taobao's in-platform instant messaging function as a crucial ally for their businesses. Product listings are merely hooks to drive users to click on them, and subsequently connect to customer service via Taobao's instant messaging function. Shops also need to list "token products" with easily divisible units, like "RMB 1" (USD 0.14), for pricing flexibility.

Despite these gymnastics that service providers have to go through, Taobao still holds appeal for two main reasons: its scale and accessibility. Due to its over 726 million MAUs, even service providers with a presence on other platforms see Taobao as fertile ground to mine customer traffic.
"We have an offline shop on Meituan. But we are also present on Taobao because there are just too many people there," said a Shanghai-based makeup service provider to KrASIA.
This particular shop offers customized makeup services for weddings, interviews, and parties. Its shop only displays two non-specific product listings with exactly the same title—makeup services—the only difference being their price, RMB 10 (USD 1.43), and RMB 100 (USD 14.3).
After customers text the shop with their specific makeup request, a shop representative responds with a near-instantaneous quotation on Taobao's chat. Quotations depend on the complexity and urgency of the demand, as well as the skills of a particular stylist. Upon reaching an agreed price of RMB 420 (USD 31.42) via Taobao chat, customers now need to purchase four units of its RMB 100 product listing and two units of its RMB 10 product listing in order to pay the full sum.
Setting up a basic Taobao shop is also easy for smaller outfits lacking resources to operate a full-fledged store. By design, Taobao aims to democratize access for the masses with its simple, user-friendly functionality. Potential merchants only need to follow a relatively simple process to set up a shop, compared to other platforms such as Meituan. Not everyone can be a licensed hairstylist, but there are thousands of Chinese housewives who are willing to give you a simple straight haircut for a fraction of the price on Taobao.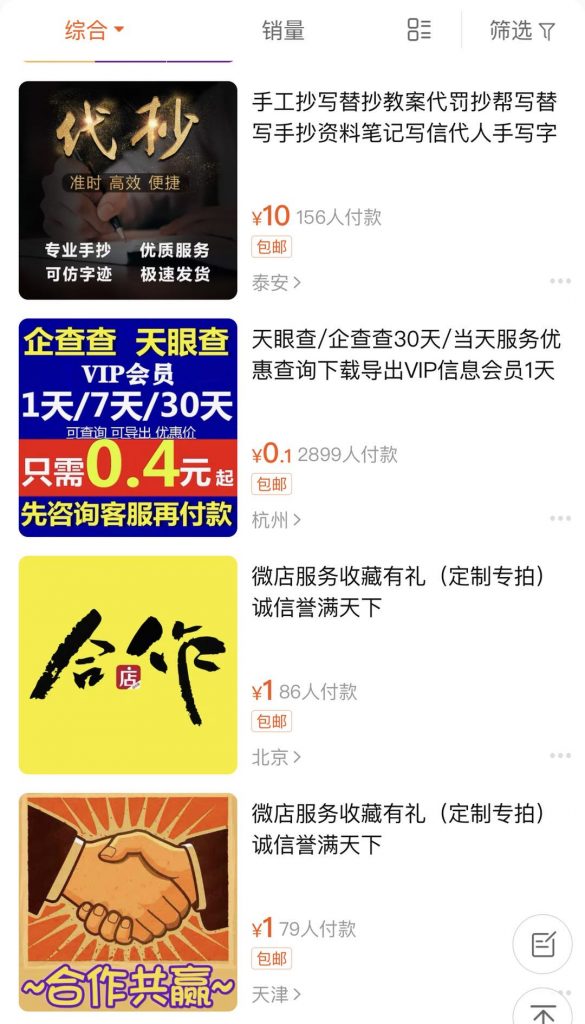 However, there are also less innocent reasons for operating on Taobao. Due to lower barriers to entry for merchants, Taobao has been known for an array of low-quality or inauthentic products, as the platform's monitoring is less strict compared to other e-commerce sites such as JD.com.
Alibaba has tried to stamp this out by introducing Tmall, a B2C platform offering products from trusted merchants, but Taobao has remained the choice of many consumers for its affordable products and vast offerings.
Another reason can be found in tax evasion. Some Taobao service providers contacted by KrASIA refused to transact on Taobao's platform, powered mainly by Ant Group's Alipay, providing instead unsolicited phone numbers or asking to connect on WeChat to further discuss transactions off-platform.
For instance, when KrASIA approached a tuina (Chinese traditional massage) shop to inquire about its services, we received a response via live chat asking us to contact a number to discuss "further details." Another shop touting makeup services simply asked us to add them on WeChat to transact further, refusing to explain why when probed.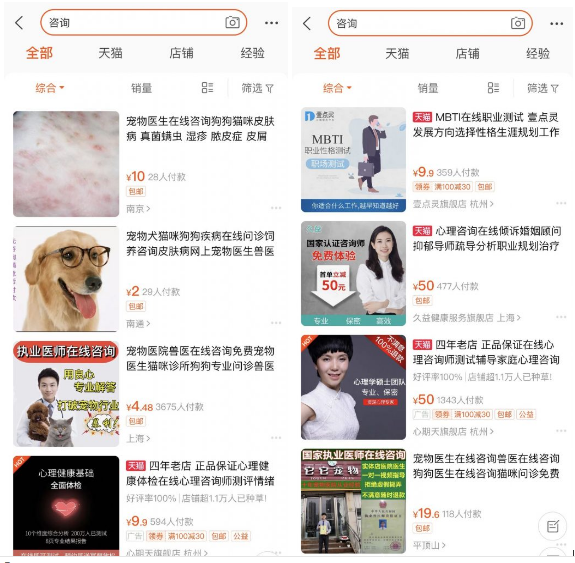 Law of supply and demand in action

There are no limits to "creativity": as long as there is demand, there will be supply. For instance, kindergarten-registration services to circumvent long queues for kindergartens have sprung up, together with paotui, or runner-errand services.
According to Liu Jinhong, the operator of a paotui company, buying cigarettes and helping customers to pay electricity bills are common commissions. However, requests can be incredibly unusual. "There was a customer who couldn't contact his mother for many days who was working in Chenghai. He hired a paotui company to travel to Chenghai to find her," wrote Liu.
"They are just trying to make a living, and there are people willing to pay for it. They do their job well and earn an honest day's work," said 26-year-old Zhang Qian to KrASIA. "I have not used them before, but I might if there are urgent needs."
Some individuals also offered ancestor worship services to meet demand during COVID-19 lockdowns. China's Tomb-Sweeping Day, observed each April, usually requires families to journey to their ancestors' graves to pay respects. "Replacements," however, can pay respects on behalf of clients, with add-ons such as "premium paper offerings" generating additional cash on the side.
Other popular services found on Taobao are "human alarm clocks," namely personal wake-up calls, for a price ranging from 5 yuan (USD 0.71) to 10 yuan (USD 1.43) per call.
Positive reviews abound. "The little brother who called me was so sweet! His voice is so gentle. I was awkward, but now I look forward to waking up every day," wrote a user named t**8 on Taobao.
"I requested someone who sounds like a grumpy auntie to shout at me every morning. They also did this well," another user said.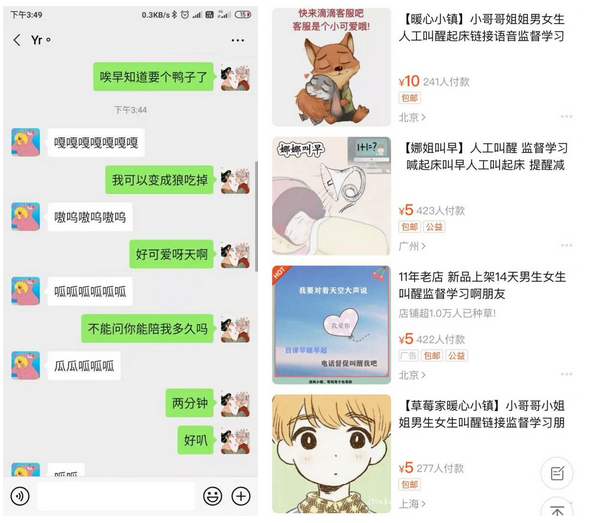 Other questionable activities

Looser monitoring can also result in some shops treading a fine line between illegality and "creative" commerce. For instance, multiple shops advertise fake identification documents forgery services, with titles including words such as "joke", to avoid being picked up by censors.
Still, when accessing these online stores' Q&A sections, inquiries such as "How real does it look? Can you tell it apart from the real thing?" are among the most popular questions.
Orders can also be customized. "When I lost my company identification card, I was so scared. But I ordered a replacement one and it was hard to tell the difference. I found my original card, but I keep the other as a spare," says a 32-year-old user to KrASIA, who asked to remain anonymous for privacy reasons.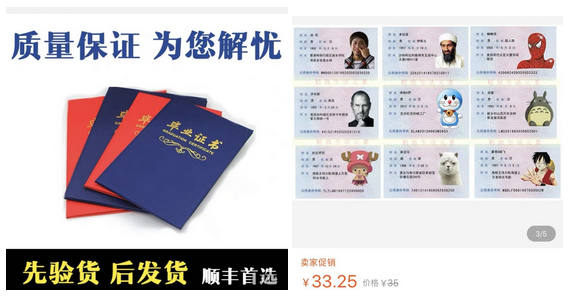 Some product listings also offer thinly veiled, open-ended "services for hire." For an agreed price, users can hire a provider to do almost everything. The opacity of such listings makes it difficult for the platform's censors to draw a line between legit and illicit services.
A product listing KrASIA came across was bluntly titled "Message." No details were provided, except an ominous three-step summary: "1. Tell us what you want. 2. We give you a price. 3. We do the job." Its brevity belied the infinite range of messages that could be commissioned under a cloak of anonymity.
Some other shops simply do not beat around the bush. Another search-engine-optimized product listing, entitled "Number, Cancel, Harassing, Remove Name, No Record" promises to make calls without leaving any identification records.
When KrASIA approached this particular shop, named "Health and Happiness are Real," its service representative was initially receptive. "Tell us what you want. Be concrete," they urged.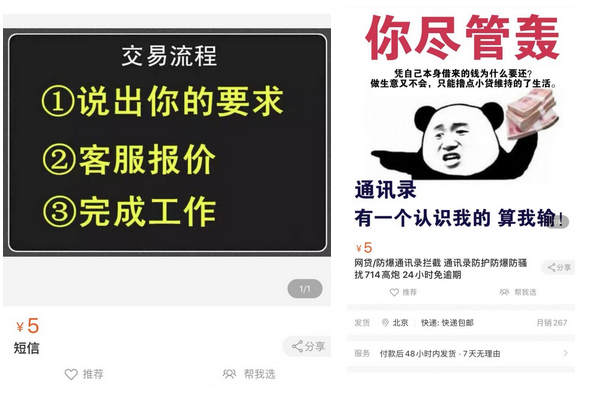 When asked whether their services are illegal or against the platform's regulations, however, the representative quickly put an end to our questioning, blocking our account from making further contact.
"My ex-boyfriend was so angry that he hired someone on Taobao to call me hundreds of times. It was ringing non-stop. Even if I would put my phone on mute or hang up, it wouldn't stop. The aim was to prevent me from being able to use my phone for anything else," said a twenty-eight-year-old victim to KrASIA, who asked to remain anonymous.

Supported by part of the online community
As Gandhi once said, the best way to find yourself is to lose yourself in the service of others. Consumer reviews are particularly valuable in these non-mainstream industries because customers have little legal recourse for unfulfilled orders. In a bizarre spirit of community, customers also engage in reviewing such shops.
"My friend recommended this shop. The item is really not bad, in terms of both quality and workmanship. Very detailed! The service is also very good. No wonder my friends all rate this provider so highly," wrote a user named d**gan, under a listing for fake graduation certificates.
With services on Taobao ranging from quotidian to unique, there's little wonder that the platform is often seen as a veritable wonderland for consumers and sellers alike. Unreliable or illegal merchants, however, remain a persistent problem in China's online space and on Taobao. Users should, therefore, take Taobao's seemingly infinite service offerings with a hearty pinch of salt.