Before establishing the world's most valuable education tech startup in 2011, Raveendran Byju was considered to be a rock star by students who he mentored at his tutoring institute in Bengaluru.
Thousands of other Indian tutors have their own fan base and following. Much like Byju, some harbor an entrepreneurial dream and wonder whether their own tuition center could someday become more than a few classrooms. Perhaps, then, tech solutions could streamline their operations and take them one step closer to realizing those dreams.
Seeing ample opportunity in this space, Mukul Rustagi and Bhaswat Agarwal, longtime friends who are also serial entrepreneurs within the spheres of education tech and lead generation, decided to explore the education sector once more, this time to solve problems for tutors.
Agarwal had previously worked for Microsoft to implement its tech solutions in educational institutes, so he had an existing understanding of the issues these independent education institutes face. They spent months talking to students and teachers to learn about their problems and see if technology could provide meaningful solutions.
They learned that the tutoring centers and instructors had to commit an inordinate amount of time and effort to tasks like keeping track of students' payment cycles, providing individual feedback, and sharing notes with their classes. Rustagi and Agarwal asked the teachers if they would be willing to adopt technology to solve these issues—and pay for the service. The response, Rustagi said was that they were more than happy to use such a tool as long as it didn't interfere with their existing teaching process.
Tutoring institutes in India are either run by an instructor who employs a few others to cover a set of subjects, or by a businessperson with no connection to the teaching fraternity. In the latter case, the entrepreneur typically brings on board a tutor who is respected in the neighborhood and makes that person the face of the institute.
The market for tutoring institutes in India is huge, according to a report by the National Sample Survey Organization, which said 71 million students in the country opted for private tutors in 2017. Although more recent figures are not available, going by the number of billboards in smaller cities that advertise for such institutions—Kota in the West Indian city of Rajasthan being the hub of such tutoring centers—it is safe to say that the market is growing.
Excited by the teachers' feedback, Rustagi and Agarwal started Classplus in 2018, a B2B company that offers a mobile app for teachers that provides tech-based tools for their administrative tasks. The app sends out payment reminders and conducts student assessments automatically, in addition to giving teachers a platform to distribute content. "It's basically a full-stack suite that brings all kinds of small functionalities around communication, content, distribution, and admin-related job onto one platform," Rustagi, co-founder of Classplus, told KrASIA.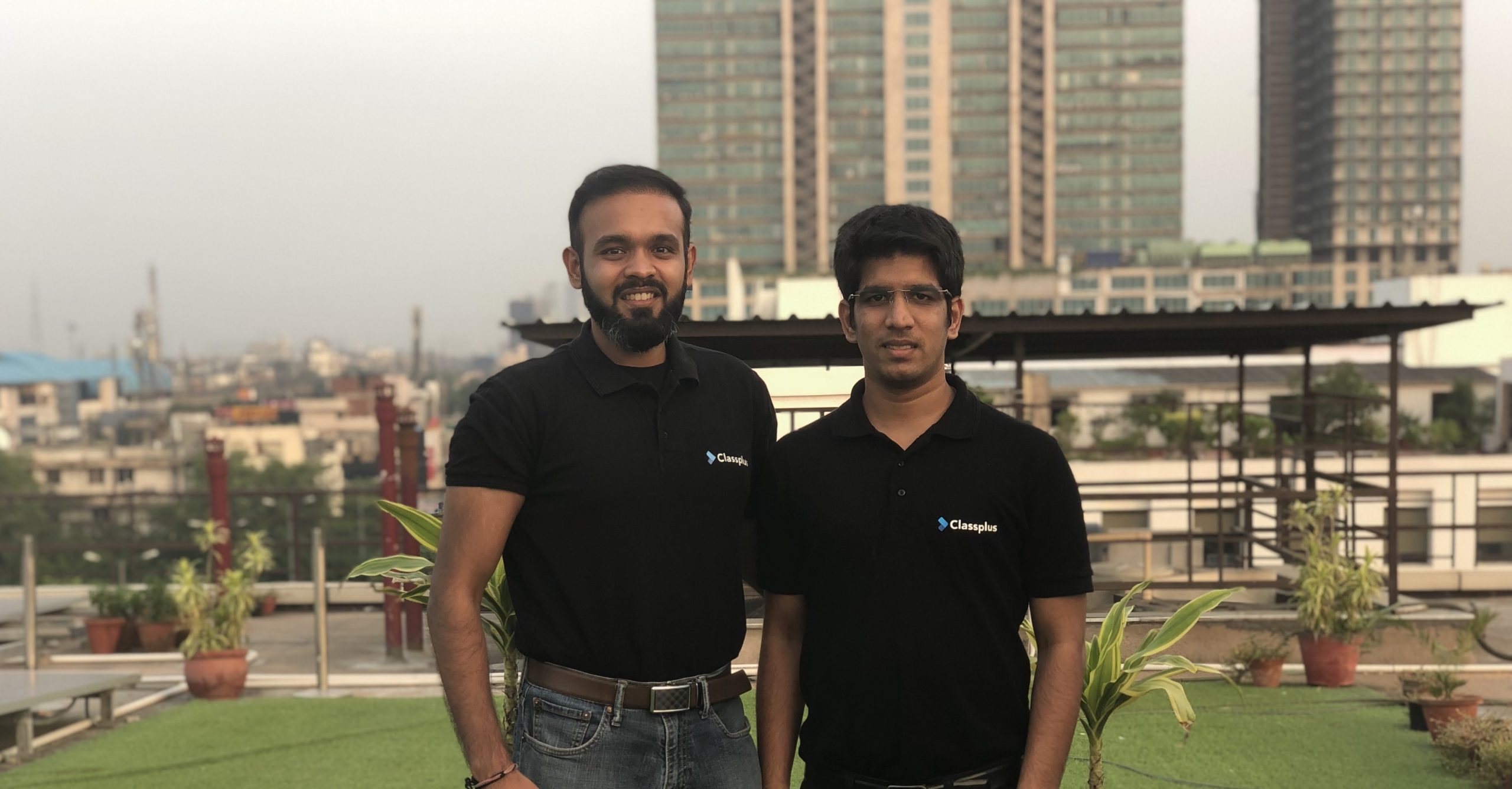 Stepwise class expansions
When the company had a primary version of its initial product in 2018, the app only had messaging functionality, which allowed teachers and students to interact with each other about class schedules and study materials, as well as for parents to hear feedback about their children's progress.
These interactions previously took place via WhatsApp, which the tutors didn't find to be adequate, Rustagi said. Talking to an entire class of students over WhatsApp meant scrolling through a constantly flooded conversation log. Group management was also a hassle, particularly when tutors needed to communicate with just a subset of a class. The fact that this blended in with their personal chats made it even messier.
The startup took one step at a time. It made sense for Classplus to start with improving the means for communication. After that, the team added other features, like payment tracking that made it easier to oversee individual fee structures based on discounts that were offered to different students. "Teachers were facing a lot of leakages in payment. We started a payment ledger module on the platform which would automatically remind students when to pay, send them invoices, and even process digital payment," he said.

Between 2018 and 2019, Classplus added several other features, like giving instructors the means to distribute study materials through their platform, again moving this procedure off WhatsApp and to an access point that was clear for students. "Students were unable to search for a specific study material shared by their teacher, as WhatsApp has no system to search for a specific keyword within a document, which Classplus has," Rustagi said.
The next step was to give teachers the space to distribute video tutorials for their students. "We realized teachers upload a lot of their tutorials on YouTube, for which they have to take extra effort to ensure people watch, like, and subscribe to their channel. Here, they already have an audience which they can easily capitalize on," Rustagi said.
With these means for content distribution in place, Classplus created a separate monetization channel for instructors—anyone could purchase their study materials and video tutorials, giving the tutors extra income for what they have already prepared for their regular classes. "We are essentially helping small businesses to stay relevant in the internet age. You can think of us as a backend which powers the entire digital capabilities of coaching centers," Rustagi said.
Classplus didn't stop there. Now, tutors can use the platform to design assignments and mock exams. "Since a lot of real exams have already moved online, it became imperative for us to provide this feature for the coaching centers to ensure they and their students are not left behind," Rustagi said. Since these are in multiple choice format, that means the platform can automatically grade the students' submissions. It even analyzes their performance by comparing results with previous runs and against each other, tracking their progression over time.
The economics of education
Most of the instructors and tutoring institutes that subscribe to Classplus each serve at least 50 students at a time. Teachers who go for home tuition don't really need such a platform, Rustagi said.
The co-founder considers these instructors to be entrepreneurs in their own right. "They do content creation, distribution, relationship management with students and parents, and employ staff to run the coaching institute. So they need technical assistance to help them run it smoothly," he said.
Rustagi claimed Classplus counts over 3,500 tutoring centers spread across 75 cities as clients that pay an annual subscription fee, and they each customize their plans based on the features they want to use. Classplus also charges commission for every sale of study materials on its platform.

In the past couple months, as COVID-19 has forced students to study from home and utilize video tutorials and online classes, Classplus' engagement has increased 600%, the company claimed. In particular, its online test feature has seen more than 400% uptick in usage in the last two and a half months.
In May, the company raised USD 9 million in a Series A financing round led by RTP Global, with participation from existing investors such as Blume Ventures, Sequoia Capital India's Surge, Spiral Ventures, and Strive.
Classplus said it will use the funding to add functionality for student assessment, content-hosting, and distribution. "We're also building a strategy and a leadership team, which can take up new initiatives and build new product offerings," the company said.
"We are not there yet, but we want to create a world class technology product for teachers that is unmatched by any other player," Rustagi said.
This article is part of KrASIA's "Startup Stories" series, where the writers of KrASIA speak with founders of tech companies in South and Southeast Asia.