When the world's most-valuable edtech startup Byju's bought WhiteHat Jr (WHJ), a coding tutoring platform, for a whopping USD 300 million in August 2020, it created the fastest idea-to-exit success story in the world's third-largest startup ecosystem.
Founded in early 2019 by Karan Bajaj, former South Asia head at US entertainment major Discovery, Inc., WhiteHat Jr grew at a break-neck speed over one and a half years, hitting USD 150 million in annual recurring revenues by mid-2020. One of the first startups to focus on teaching coding (programming languages) to kids aged between six and 14, it is often credited with developing this niche in India's fast-growing edtech market.
For Byju's, which was looking to expand its presence beyond the school curriculum and competitive examination preparation in its pursuit to go global, WHJ fit the bill, as it had entered the US market in March 2020. Besides, they shared a common backer, Silicon Valley-based Owl Ventures.
The merger with Byju's, the USD 12 billion-edtech giant, gave WHJ a strong backing and brand positioning in the Indian online education space. However, what should have been a smooth-sailing ride from there on turned out to be a rocky one.
Five months down the road, WHJ has become one of the most-criticized companies on social media and is particularly facing flak from the coding community over the controversial marketing campaign it ran last year and allegedly censoring negative comments, posts, reviews, and videos on the company.
In November, WHJ filed a USD 2.7 million lawsuit against 29-year-old software developer Pradeep Poonia for defamation, hacking and trespassing the company's internal communication channels, and trademark and copyright violations, among other things. It also filed a USD 1.9 million defamation suit against angel investor Aniruddha Malpani, who has been a long-time critic of Byju's, for allegedly tweeting false claims about the company and causing it reputational damage.
While the case is still going on, WHJ has been busy putting out the fire aside from trying to maintain its growth rate.
The eye of the storm
Once WHJ came under Byju's wings, it aggressively started promoting the advertising campaign that was kicked off in early 2020 across social media platforms, so much so that it ended up facing a backlash from netizens for overexposure to its digital ads.
One of those ads was seen by Poonia on Instagram in late August. It featured a nine-year-old kid named Wolf Gupta, who bagged a USD 20 million (INR 1.5 billion) package from tech titan Google after he learned to code.
The other ads in the campaign made similar tall promises, portraying how kids could get lucrative jobs at tech majors by learning coding and AI skills. The company also used pictures of famous personalities like Barack Obama, Sundar Pichai, and Bill Gates in its marketing material that made it seem like they endorsed the platform, which wasn't the case.

Poonia told KrASIA that when he saw these advertisements popping up on Instagram, he decided to find out more about Wolf Gupta.
"I created a YouTube video on Wolf Gupta and the false claims about him bagging multi-crore job made by the company to make people aware," he said. "And I thought I would leave it at that since I did my part."
However, after a few days, Poonia's video was taken down due to copyright infringement. He uploaded it again, which met with the same result. He then wrote about it on Quora and Reddit, but to his surprise, both accounts were suspended soon after.
"It came to the point that I would upload a video on WhiteHat Jr on YouTube, and it would be deleted in the next 30 to 45 minutes," Poonia said.
By mid-October, his two YouTube channels, one Twitter handle, two Reddit accounts, and one Quora account were suspended and over a dozen videos and a couple of articles on Linkedin were deleted. These posts talked about WHJ's aggressive sales pitches, exaggerated claims, alleged fake reviews, and inexperienced teachers, among other things.
"It took about three months just to attract the attention of the larger user community and media to what was happening at WhiteHat Jr," he added. By the second week of November, Poonia said he had obtained "solid evidence against the company and tried reaching out to reporters and YouTubers," but not many seemed willing.
The evidence in his possession was WhiteHat Jr's Slack chat history which included messages from its online reputation management (ORM) team. Poonia declined to reveal where he got those messages from. Based on WHJ's internal chat history from Slack, he tweeted about the company creating apps on kids' behalf as well as how some executives made sexist comments on female teachers.
A week later, he was slapped with a lawsuit. "It was Saturday noon (November 21) when I received the email. It said my trial was in two days," he said. "I didn't even know at the time, where to hire a lawyer from."
During the hearing, Delhi High Court asked Poonia to take down a series of tweets and a couple of videos about the company. However, in the second hearing earlier in January, he requested further information on Wolf Gupta advertisements from Facebook and Instagram and their takedown information from Twitter and YouTube, among other things. The next hearing is on February 1.
As of now, most of Poonia's videos and social media accounts have been reinstated, except for Twitter account @whiteHatSnr which had over 15,000 followers and got suspended in December shortly after the first hearing.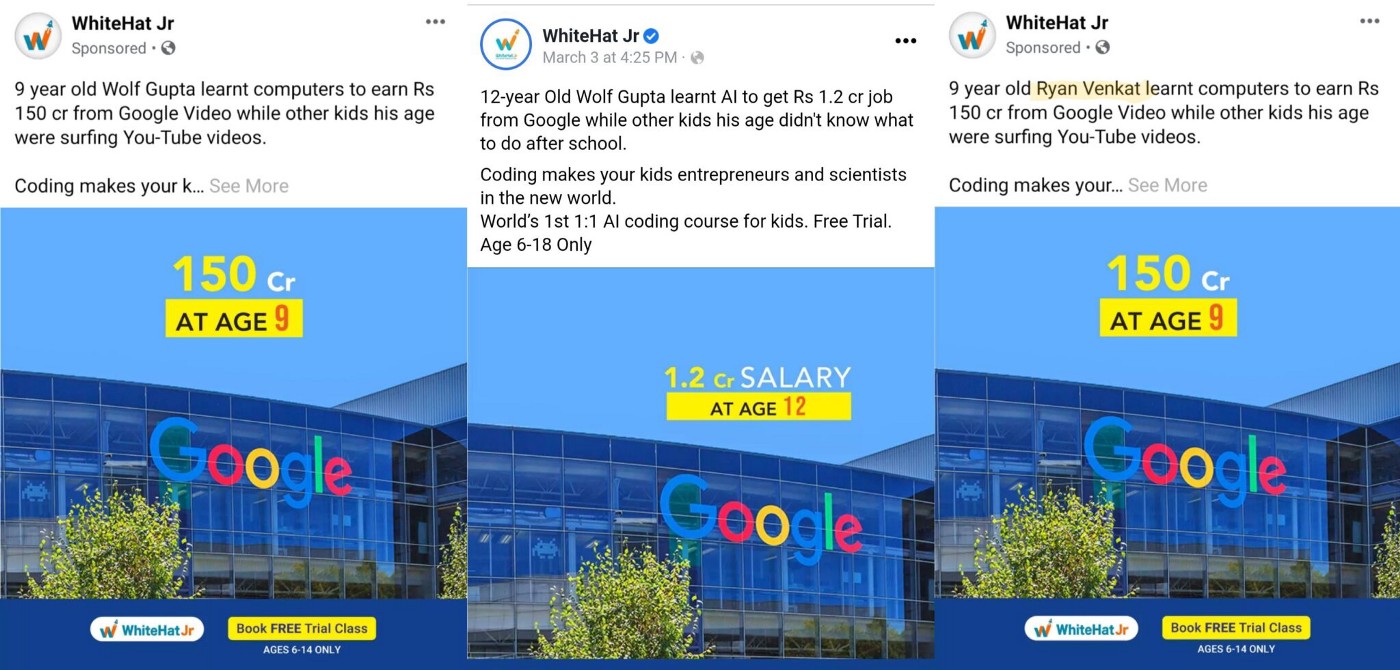 The need to take a stand
In an exclusive interaction with KrASIA, WhiteHat Jr's founder and chief executive Karan Bajaj said it was in last June when the company first realized some of its marketing creatives were problematic and took them down after an internal review. Although many others including those featuring Wolf Gupta and another similar fictional character Ryan Venkat getting a plush job at Google still remained in circulation.
After they were spotted by Poonia, who raised questions over the veracity of those claims, WHJ rolled back the controversial campaign in September and October. But it was already too late as the company had started seeing the backlash from thousands of social media users and the coding community as they came forward in support of Poonia.
"By saying 6 years old's are creating apps and making business around it, I think they are demeaning the whole profession and we as a developer community should stand against such trivializing and misuse of our profession," Sandeep Poonia, Pradeep Poonia's brother and software developer at Amazon, wrote in a LinkedIn article last week.
Bajaj, on his part, said the company hasn't made any attempts to restrict comments and reviews from people and that it welcomes critical feedback.
"We don't have the power to take down anyone's social media accounts. Social media platforms are very astute regarding the posted content," he said. Although he agreed, WHJ did flag several posts that violated the copyright infringement laws and entailed abusive content about the company and its educators. He added that the company has outsourced the content moderation to a copyright firm and doesn't get involved directly.
As to why the company slapped a multi-million dollar suit against individuals was primarily because of two things, explained Bajaj.
First, hacking into the Slack channel and going through the chats of the last few months compromised the privacy of the company and its employees, he said. Second, getting someone to impersonate as a legitimate user and taking free trial classes to harass female teachers and making a video out of that caused tremendous stress to them, while the humiliation impacted them psychologically.
While conducting his earlier investigation into WHJ, Poonia had asked his teenage cousin to enroll in a demo class. During the class, which Poonia recorded, his cousin asked the teacher what cloud storage is, to which the teacher replied, 'it is in the air.' While it highlighted the problem with educators' technical knowledge, this became the butt of the joke in the software developer community.
It is to be noted that the company only hires women teachers to create a safe environment for kids to learn and currently employs over 11,000 tutors.
"We took a stand against these things," Bajaj said. "While people think we are the bullies, the fact is, we are the ones being bullied," he added.
One of the recently launched code teaching platform for kids, Codingal, has a separate page on its website where it compares WHJ with its own curriculum and style of teaching. It's also running a campaign where it offers 25% discount to students willing to switch from WHJ to Codingal. Taking a direct jibe at WHJ's recent troubles, its marketing campaign says, "We make sure your child is really learning and not falling for a sales gimmick."
In another instance, smaller rival Tekie, in October 2020, claimed that one of WHJ's employees impersonated as a grade 6 student and illegally recorded content from its platform, an allegation that WHJ denied immediately.
Critics believe the biggest issue with WHJ is that it's milking parents' fear of their children missing out on a lucrative coding career. However, Bajaj said such allegations, including others like posting fake reviews, creating proxy apps on behalf of students, hiring under-qualified tutors, and toxic work culture, are "highly erroneous and incorrect."
He clarified that the company monitors all sales calls, its curriculum has been prepared by a team of veterans from IITs, and teachers have to get internal certification before they can give lectures. He added that they have also rolled out a new marketing campaign that focuses on the joy of learning coding for kids.
Bajaj feels WhiteHat Jr became "a soft target" for people after it came into the limelight for being acquired by Byju's for a huge sum of money.
The crux of the problem and its consequences
Even as WHJ is currently embroiled in the controversy, industry veterans believe it has successfully relayed the message to its target audience–parents and kids–that they offer kids a platform to learn coding which can make their life better.
"From day one, their objective was to reach out to both parents and kids, highlighting how kids' lives can change if they are on WhiteHat Jr," Anil Joshi, managing partner at Mumbai-based early-stage VC Unicorn India Ventures told KrASIA. "Their message was bang on but the problem was the way they communicated it."
"The other problem was they targeted kids at early ages. Saying a nine-year-old can learn to code and get a job at Google in their print and digital advertisements was a misrepresentation. That's why people are against it," he said. "The company would need to devise a better communication strategy because these are the people whose kids probably would become its customers."
However, these issues won't diminish investor interest in the company or in Byju's, he believes.
"From investors' perspective, if there were regulatory issues, they would want the company to correct them, but this is a communication problem," he said. "As long as they are able to attract the audience, serve their users, and have no issues with the product, there should not be a problem."

"From WhiteHat Jr's perspective," he added, "they have achieved their objective as today, people talk more about WhiteHat Jr than Byju's."
Coding emerged as a new hot segment within edtech last year after India announced its new education policy in July that made it mandatory for schools to include coding in the curriculum from grade six. As such, coding learning platforms including StayQrious, Codingal, Tekie, and Codeyoung had begun gaining users when schools were shut during the lockdown in April and May 2020. The successful exit of WHJ, the government's proactiveness, and the growing interest among parents for introducing their children to computer programming as early as possible, have catapulted a bunch of new coding tutoring startups into rising stars in the edtech sector.
As for WhiteHat Jr, which currently leads in the coding niche and has five million registered users, of which 175,000 users pay, providing the company an annual recurring revenue of USD 180 million, it remains to be seen whether it would be able to overcome the reputation damage it has suffered over the last five months by making an enemy out of India's developer community.