Shenzhen DJI Technology Co., Ltd. (DJI) has come a long way since its establishment in 2006. Originally focusing on just unmanned aerial vehicles (UAVs), the company later diversified into handheld video systems, educational robotics, and intelligent driving systems. DJI has also made a name for itself in spatial intelligence technology, imaging, and educational programs.
The company's products are used in many fields—including film and television media, energy inspection, remote sensing surveying and mapping, agricultural services, infrastructure projects, and cutting-edge scientific and technological research.
Headquartered in Shenzhen, DJI also has branches in Beijing, Shanghai, Xi'an, Hong Kong, Tokyo, Los Angeles, San Francisco, Rotterdam, and Frankfurt, with a total of 14,000 employees all over the world.
DJI's UAV business
The company is best known for its original UAV products, thanks to rapid product iterations and conscientious pricing. DJI's UAV offerings include the DJI Mavic, the DJI Air, the DJI Mini, the DJI FPV, the Phantom, the Inspire, and the Spark.
DJI's products are widely used in public security, electric power inspections, surveying and mapping, plant protection operations, farmland inspections, and other professional fields. They are also popular in the mass market, since each product in their UAV series has a good mix of characteristics such as high-definition images, speed, low-latency simultaneous image transmission, and portability.
For example, the DJI Mavic 3 can take ultra HD and ultra HFR (high frame rate) aerial images, record up to 1 billion colors, and present color gradation levels in detail. The larger image sensor area helps to keep the image clear, even in low-light conditions, and it can capture vivid images without the need for adjusting color presets. The camera's multiple wide-angle vision sensors and its high-performance vision computing engine can accurately detect obstacles around the drone and actively plan safe routes to take.
DJI's focus on UAV products has paid off. According to media reports, the company currently occupies 80% of the global UAV market and has 70% of the market share in China.
However, to achieve long-term growth, expansion beyond the UAV business was necessary. Wang Tao, the founder of DJI, said in 2016 that the company's annual revenue had maxed out at RMB 20 billion (USD 2.8 billion). To break this revenue ceiling, DJI needed to look into other sectors.
Transforming DJI would not be easy. The company needed to find a segment that matched its long-term development targets. DJI used its unique advantages to enter the automotive industry, relying on the trillion-dollar intelligent vehicle market to support its future development.
DJI's business strategy for the automotive industry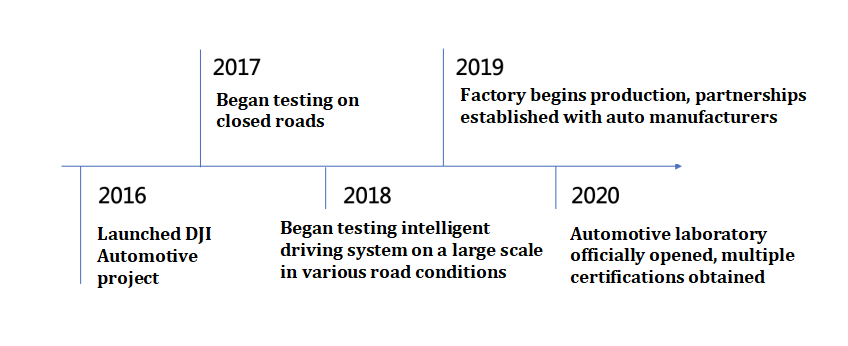 One of the first steps DJI took was to set up an internal team called DJI Automotive.
DJI Automotive focuses on L4 autonomous driving (high automation, fully autonomous in controlled areas) technology R&D, working with vehicle manufacturers by supplying intelligent assisted driving solutions.
Its current partners are SGMW (SAIC-GM-Wuling, a joint venture between SAIC Motor, General Motors, and Liuzhou Wuling Motors) and Volkswagen China.
DJI also established Livox, an independent company focusing on the mass production of LiDAR sensors. Founded in 2016, Livox established a firm foothold in the domestic LiDAR field, benefiting from DJI's mass production and supply chain integration capabilities. An insider disclosed that in addition to XPeng, Livox has established partnerships with other companies in the autonomous vehicle industry such as Zhito Technology, Baidu Apollo, Plus, and TuSimple.
Although DJI is not the only company to expand into autonomous vehicles, it adopted a different approach from competitors such as Huawei.
For example, with the Baojun KiWi EV Mini model, DJI used the competitive strategy of selling at high volumes with low prices, a technique that has worked well for the company in the UAV sector.
To reduce costs, DJI Automotive turned to OEM factories for its parts. DJI used to purchase millimeter-wave radar chips from Texas Instruments and Infineon, but now sources the chips from domestic brands.
DJI also reduced the computing power of the intelligent driving domain controller to 20 TOPS (a measurement of the number of computing operations an AI chip can handle in one second), which allowed it to price its vehicles below RMB 150,000 (USD 21,300).
On June 13, 2022, SGMW and DJI officially released their first model: the 2023 KiWi EV, the world's first mass-produced vehicle equipped with DJ Automotive's intelligent driving system. They marketed it as "intelligent driving for everyone."
In contrast, competitor Huawei decided to adopt a high-performance, high-cost approach with the Huawei ADS (advanced autonomous driving solution). The central super-computing platform provided by Huawei for Beijing Automobile Group's new energy vehicle BAIC ArcFox Alpha S has a computing power of up to 400 TOPS for the dual chip and 200 TOPS for the single chip.
By comparison, most other autonomous driving chips have a computing power capacity below 50 TOPS. Huawei's high-powered system distinguishes it from the rest, and with a price tag of over RMB 388,900 (USD 55,170) for the BAIC ArcFox Alpha S, it's clear that Huawei has its eyes set on the higher-end market.
With such different strategies adopted by DJI and Huawei, it's difficult to predict who will get the lion's share of the market.
DJI's advantages in entering the intelligent vehicle market
DJI's expertise in the UAV sector has given it an advantage when it comes to the hardware used in its intelligent assisted driving systems. One contribution it has made to LiDAR technology is improving the efficiency of prism scanning, which helps boost the reliability of the detection system in harsh environments like high temperatures and rough terrain. DJI developed a scanning mode that enables the system to achieve almost 100% field-of-view coverage, an improvement over other similarly-priced products in the market.
The company also adapted the motor technology used in its UAVs for autonomous vehicles, introducing a bearing that increases the service life of the onboard radar motor by more than six times while maintaining the rotation speed.
In addition to its hardware technology, DJI also has an edge when it comes to software systems. Autonomous vehicles rely heavily on sensors, computing power, algorithm software, and data—all familiar areas for a UAV manufacturer. It makes perfect sense for DJI, then, to apply its existing resources and expertise to autonomous vehicles.
The challenge of sourcing talent in the autonomous driving sector
DJI never had to worry about recruiting talent to work on UAVs, since its name is well known in the sector.
However, it's a different story in the autonomous driving industry, where the best candidates often choose to start their own businesses or are poached by other large companies.
Because DJI is not a household name within the automotive industry the company is struggling to recruit talent. In addition, according to information disclosed by headhunting companies and former DJI employees, DJI rarely grants stock options to externally-recruited staff. So far, DJI has not announced plans to be publicly listed either. All these factors may cause the UAV powerhouse to attract fewer senior personnel.
Will DJI succeed in the autonomous vehicle industry?
All things considered, DJI is a strong competitor in the autonomous vehicle industry with its transferable expertise in UAV technology. However, the competition continues to heat up as more contenders enter the market. The next few years will determine whether DJI can eventually dominate this sector, just as it has dominated the UAV industry, or whether it will fall flat, like a drone crushed by a thunderstorm.