More than half of people in China, at some point, played mobile games, and smartphone vendors have introduced a slew of handsets specially designed for die-hard gamers, complete with the highest refresh rates, improved temperature control, and longer battery life.
Despite the impact of the coronavirus pandemic at the beginning of 2020, Black Shark—a Xiaomi-backed company that makes gaming phones—and Chinese smartphone maker Nubia upgraded their offerings and both released new devices in March.
According to a report from third-party data provider IDC, amid the downturn of the smartphone industry as a whole in 2019, the niche gaming smartphone market grew by 50% with more than 1 million units shipped.
Among them, Black Shark led the way with a market share of 47%, followed by Nubia's Red Magic with a 39% share. Republic of Gamers (ROG), backed by electronics manufacturer Asus, ranked third with 14%.
Lenovo, the world's largest PC vendor, announced this week on Weibo the upcoming debut of its first gaming phone under the brand Legion, which will support an impressive 90W fast charging.
"Chinese gadgets makers have begun to foray into the gaming smartphone market and it's a good option," said industry watcher and tech writer Liu, who goes by the name "LH Phone Tech Enthusiast" in lieu of his full name.
"Compared to the currently saturated smartphone market, the competition is obviously less fierce in this vertical. Besides, to meet the unique demands of gamers, gaming smartphone makers can differentiate their products from regular phones," Liu told KrASIA.
A silver lining in a slowing smartphone market 
In 2019, the worldwide smartphone market fell by 2% to 1.37 billion units compared to 2018. China, which accounted for nearly a quarter of the market accounting for 369 million units, experienced a sharp decrease of 7% year-on-year (YoY) according to a report from research institute Canalys.
The fourth quarter of 2019 marked the 11th consecutive quarterly decline and the market's lowest level since 2013, as only 85.3 million units were shipped, given the drastic slowdown of 4G smartphone purchases coupled with underwhelming demand for 5G devices.
However, as the smartphone penetration rate in China continues to rise, the mobile game segment has seen substantial growth in recent years.
Per QuestMobile, as of June last year, 691 million smartphone users were active mobile gamers, up 7.8% YoY from 2018. This leads gadget makers to covet the hybrid market, although, strictly speaking, gaming phones are not a novel concept, considering Nokia released a phone resembling a gaming console that played video games in 2003, dubbed "N-Gage". The Finnish multinational tech giant discontinued the product three years later due to poor sales performance.
In 2017, Razer, the company best known for building gaming peripherals and laptops, launched its first smartphone, which was Android-powered with Razer-styling and marketed as a smartphone tailored for gamers, resurrecting the concept.
Since then, a couple of Chinese companies have stepped up the development and release of similar products. "The existence of gaming smartphones is necessary," said Sun Hui, a Chinese gaming industry veteran.
"The unique specs can help gamers to pursue the best mobile gaming experience. Even though only a small group of people need them, the market is there."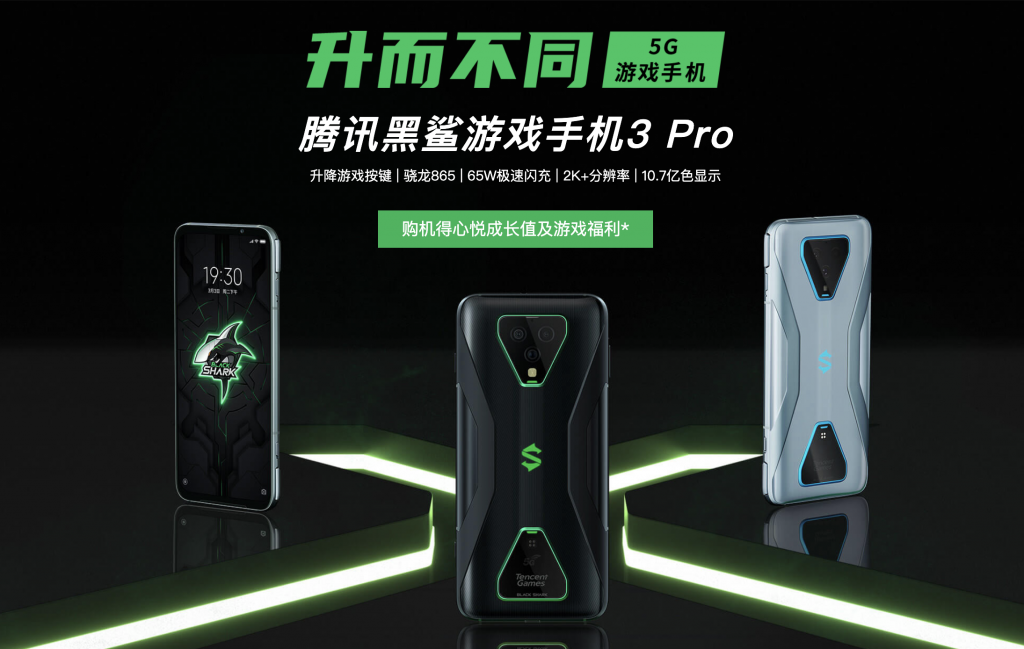 Gaming companies play a key role
As gaming smartphones go mainstream, companies beyond just hardware manufacturers have entered the fray. Chinese gaming and entertainment powerhouse Tencent is working with smartphone makers on a raft of initiatives.
For example, Black Shark's latest self-titled series was jointly developed with Tencent, KrASIA wrote. The Tencent Black Shark 3 and Tencent Black Shark 3 Pro, unveiled in March, optimize various blockbuster games produced by Tencent, including Honor of Kings and Peacekeeper Elite, the Chinese version of PlayerUnknown's Battlegrounds Mobile (PUBG Mobile).
Previously, Tencent also partnered with ROG in 2019 on the release of the ROG 2 gaming smartphone.
A recent report by intelligence firm Sensor Tower shows that PUBG Mobile raked in USD 232 million in March alone with a threefold increase compared to the same period last year, making it the highest-grossing mobile game worldwide. At the same time, Honor of Kings ranked second in global revenue, generating USD 112 million. The performance was boosted by factors including the game's second anniversary and a new gaming season, along with the ongoing COVID-19 pandemic, which has forced millions to stay at home.
"On the gaming firm's side, the collaboration with smartphone makers can improve users' gaming experiences, tackling questions like latency or overheating, " Liu said.
Still a fledgling market 
Some question the future of gaming smartphones, since flagship models by major smartphone brands are racing to equip the devices with the top quality specs and features, which could even outperform the capabilities of some gaming smartphones.
Yu Chengdong, CEO of Huawei's consumer business group, also doubted the hype around gaming smartphones in 2018 after a Huawei launch conference, saying that "[It's] like waterproof phones, [but] many phones now include this function."
However, gaming smartphones tend to compete with consoles rather than mainstream handsets.
Luo Yuzhou, co-founder of Black Shark, said during an interview with local media outlet 36Kr in March, 2019 that, in the future, gaming smartphones aim to lure users from consoles, competing with Nintendo's Switch and Sony's PlayStation. A report from the government shows that in the first half of 2019, the revenue from console games only accounted for 0.5% while mobile games contributed 67.6% of the total RMB 114 billion revenue of the gaming market in China, with the remainder taken by computer games.
Luo continued, explaining that the gaming smartphone industry was still immature at this point. However, he outlined his vision for the Black Shark's future with three main tenants. First, the company aims to perfect the users' experience in mobile gaming. Next, the devices will be equipped with peripheral hardware to function as a portable handheld console, while the company wants to add a projector function to further entice console users.