Last year, the National Restaurants Association of India (NRAI), which represents more than 500,000 restaurants and hotels in the country, declared a nationwide digital strike. The organization urged its members to log out of all the food delivery apps, including the widely popular Zomato and Swiggy. One of NRAI's main complaints was that these online aggregators refused to share customers' information with restaurants.
Cut to February 2020. Shailaz Nag, Gyanesh Sharma, and Anurag Gupta, three former senior executives of digital payments company PayU, launched the B2B2C company DotPe, which lets restaurants take orders from dine-in customers through a combination of QR codes, which diners scan to place their orders, and a micro-site or dashboard that is used by restaurants.
"In the last decade, all the marketplaces have become disproportionately powerful compared to offline merchants. Our idea was to empower merchants with the tech that Zomato, Swiggy, Amazon, and others have, so that they can create their brand loyalty with customers and are not at the mercy of these marketplaces," Gyanesh Sharma, co-founder of DotPe, told KrASIA.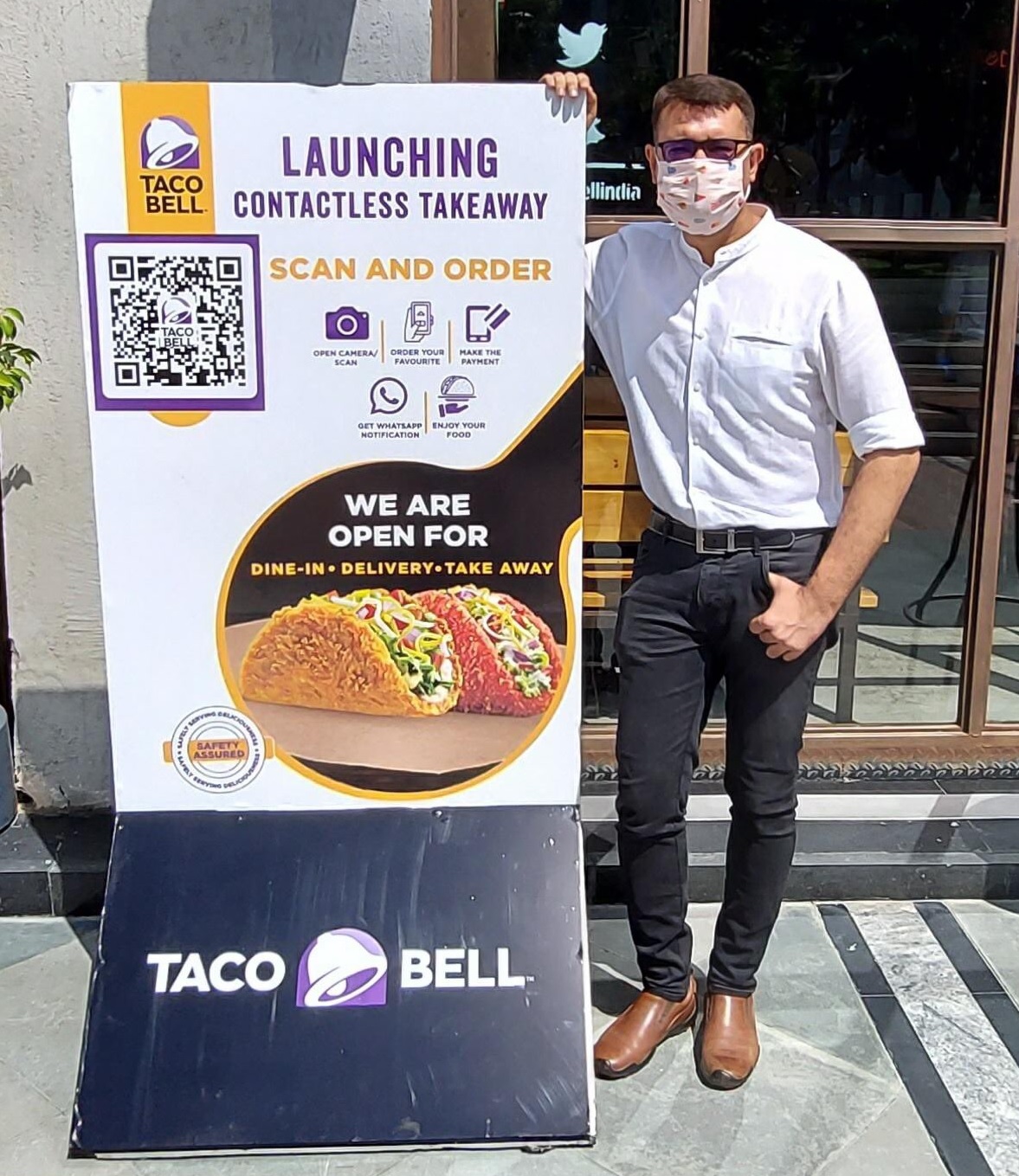 Gurugram-based DotPe provides its technology suite to restaurants, pubs, and food courts, giving each client the capability to operate a micro-site where customers can place food orders and complete payments.
"Since the dashboard is totally operated by restaurants, they can access all the customer information. For restaurants, this is priceless, as it gives them a chance to learn about their clients such as their location, age, food preferences, if they have been to their other outlets, among other such details," Sharma said. The restaurant partners can use this information for re-marketing purposes and make their customer experience better by giving them personalized offerings, he added. DotPe itself does not process or sort customer data—this is up to restaurants, typically chains, that have the capability and manpower.
Under DotPe's B2B2C model, there is no app or website for customers to access through in browser. The only consumer-facing tool it has is the QR code, which is unique for every restaurant. Scanning the code takes the customer to that restaurant's micro-site.
At the moment, few people are dining out due to the pandemic, Sharma said, but their product is fit for the era of COVID-19. There's no need to touch menus or public screens. The transaction is completed on customer's own device.
"At quick service restaurants such as McDonald's, where one has to stand in the queue to place their order and get the food, they can just order from their seat and they will be notified by the restaurant through a WhatsApp message when the food is ready," Sharma said.

In seven months, DotPe has partnered with around 1,000 brands and claims to have 7,000 outlets live on its platform. To tap restaurants that deliver food, it has partnered with five delivery partners including Shadowfax, Dunzo, and Delhivery to gain access to about 50 cities in the country.
"In cities where these delivery companies don't have their presence, we work with local delivery partners there. Moreover, we have also signed a deal with a company that provides businesses with delivery persons when needed," the co-founder said.
Yet many restaurants in India still rely on the reach of Swiggy and Zomato, both of which offer restaurant recommendations to users.
Sharma believes DotPe can coexist with these large marketplaces, as they each serve a purpose. DotPe largely helps restaurants with catalogue management, in-store ordering, digital payments, and customer engagement. In particular, DotPe said it provides restaurants with access to the identities of their customers, which existing aggregators withhold.
The company said restaurants share their QR codes or a direct link to their DotPe micro-site on Facebook and Instagram, where customers can access them. Once a customer places an order on the micro-site, restaurants connect with them over WhatsApp. "Next time, whenever they want to order from that restaurant again, they can just WhatsApp their order to the restaurant instead of logging in to a food delivery app. For restaurants, the plus-point of receiving orders from social media platforms is it lets them engage with their clients."
Additionally, DotPe is in talks with payment apps such as GooglePay and Flipkart-owned PhonePe to integrate its API, which will show the list of all of the platform's restaurant partners. The drawback is that people generally don't log in to these apps to order food, but to make payments for utilities or e-commerce purchases.

DotPe has bigger plans that are taking it beyond the food and beverage sector. The company is already testing a grocery delivery service in Gurugram, with plans to expand to other cities in a couple months. It expects to onboard 30,000 retailers and clock a million transactions by the end of this year.
"Once we establish ourselves with the grocery segment, which gives a high number of repeat orders, we plan to get into other segments such as apparel, footwear, toys, and pharma," Sharma said.
With a strong founding team that includes a second-time entrepreneur, the company raised USD 8 million in February even before it went live with its first customer. The seed round was led by PayU and Fosun International, with participation from Naukri.com as well as Snapdeal founders Kunal Bahl and Rohit Bansal.
Sharma said in the next two years, DotPe will also offer financial services. "We will help smaller merchants get loans. And for bigger merchants, we will help them with working capital, insurance, and other banking products."
This article is part of KrASIA's "Startup Stories" series, where the writers of KrASIA speak with founders of tech companies in South and Southeast Asia.