In 2015, after spending two years creating an AI-based race car driving simulator for a company, Mudit Dandwate decided to devote his time to solving a problem with a wider impact. After discussing it with an office friend, Gaurav Parchani, healthcare was the clear choice. The sector held significance as well as business opportunity.
The pair spent their next four years creating a sensor-based device called Dozee, which could monitor body vitals such as heart rate, respiration rate, sleep patterns, and stress levels in a non-invasive way.
Dandwate and Parchani started by working on a prototype that could track a person's sleep patterns, conducting trials at a few hospitals to test Dozee's accuracy. Based on these tests, they improved the sensor's quality and the algorithms that evaluated a patient's physical state, eventually drawing readings of other vital signs too. In particular, Dozee hit and maintained a 98.4% accuracy rate compared to the reading of an ECG machine.
"Our initial idea was to go deeper into sleep monitoring space, but then we decided that with the accuracy level we have achieved, which even hospitals can rely on, it can have other usages as well," Dandwate, co-founder and CEO of Dozee, told KrASIA.
Even though the company proceeded slowly and cautiously with research and development, Dozee reached a point where its sensors were so sensitive that they could capture the opening and closing of heart valves. "The sensor can capture micro-vibrations produced by the heart while pumping blood, during inhalation and exhalation, and other body movements," Dandwate said.
As the device records such minute details, the CEO said, it can detect many diseases even before their symptoms manifest in observable ways. "Many disorders go undiagnosed until it's too late. If we could identify these subtle changes as soon as they occur, a diagnosis can be made in time."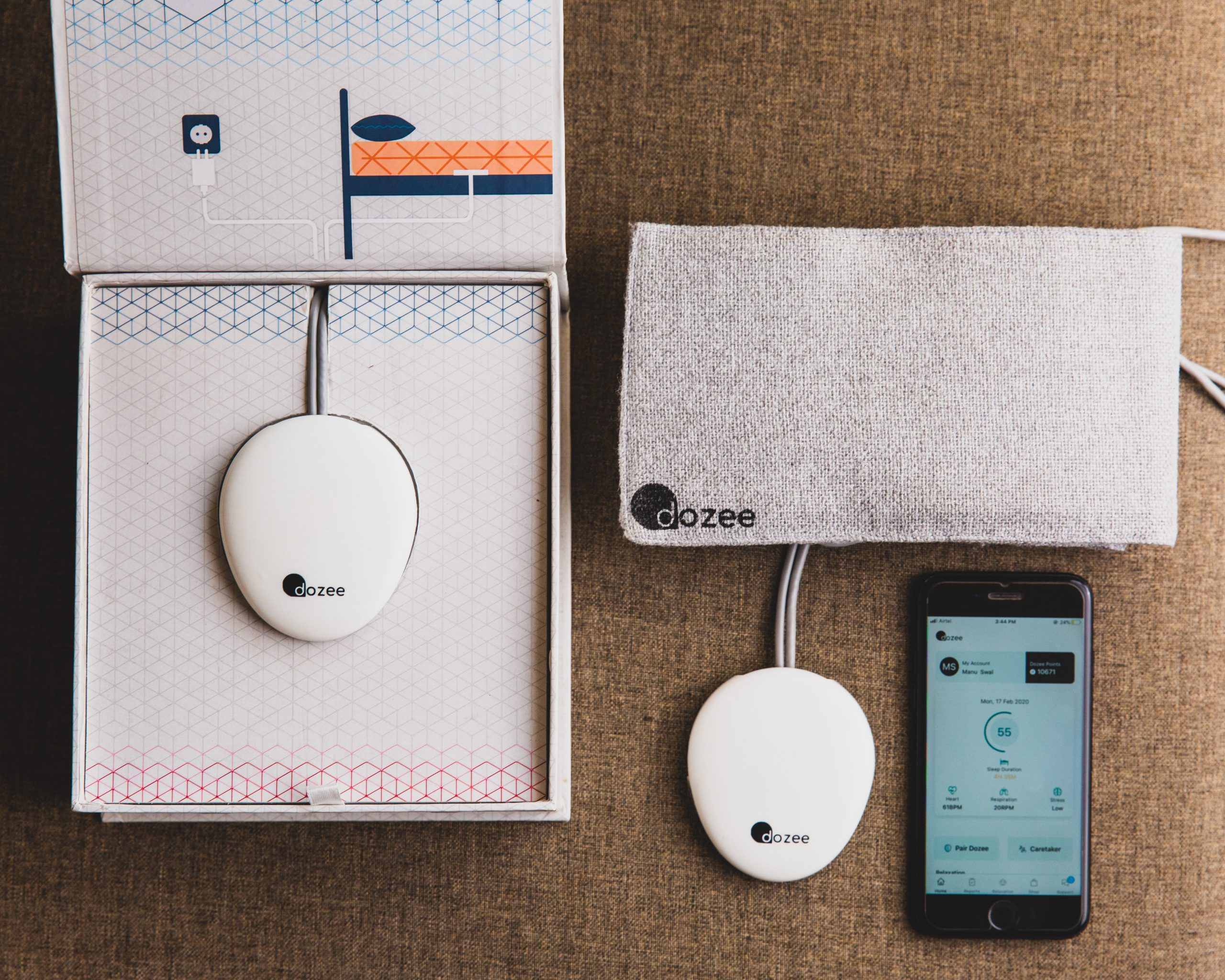 In July 2019, Dandwate and Parchani launched Dozee with a price tag of INR 8,000, or USD 108. Shaped by a computer mouse, Dozee comes with a wire attached to it that leads to a pouch that is meant to be placed under a mattress. When the user lies down on the bed, the sensors embedded between the layers of cloth read the body's vibrations, which the device then interprets. A user can sync their Dozee unit with their smartphone via Bluetooth, and track their data using the company's app. With this information, Dozee users can seek medical advice and even take the appropriate health precautions.
The algorithm that powers Dozee stands out in that it does more than just read a body's vitals. It automatically cleans the data gathered by filtering out external vibrations and noises, and identifies deteriorating health by analyzing abnormalities across the vital parameters that are fed into the unit. If any irregularities are detected, the unit issues an alert to the user's designated contacts through its app. Dandwate said many users who live away from their family buy the product for their parents.
According to the CEO, in the course of a year, the device has helped many users detect early signs of heart and respiratory conditions. At the moment, more than 1,000 devices are being used to monitor the vitals of at-home patients. "Slowly, we are moving towards at-home healthcare, where the care provider checks the data remotely and utilizes telemedicine-based solutions," he said.
Beyond that use case, hospitals and nursing homes are Dozee's biggest customers, as they buy multiple devices in one go to manage their wards. "Since we have worked with hospitals from the very beginning, we understood what they required. We were able to generate the data that they use in diagnosis and treatment," Dandwate said.

In addition to the device, Dozee has also created a dashboard for hospitals, where the staff can remotely monitor multiple patients. The company charges an yearly subscription fee of INR 10,000 (USD 136) for this service. It said 30 hospitals currently use Dozee to track patients' vitals.
This has been useful for medical facilities in the past months. During the pandemic, Dandwate said, the company has worked with major hospitals to give them the capabilities to closely monitor COVID-19 patients without placing attendants in the same room. It claimed to have monitored more than 4,000 COVID-19 patients who were admitted to hospitals.
Earlier this month, the company raised USD 1.7 million from Prime Venture Partners, YourNest Venture Capital, and 3One4 Capital. Dozee will use this funding to expand its product capabilities and team size.
Dozee has also filed for several patents for detecting and predicting respiratory, cardiac, and neurological patterns.
This article is part of KrASIA's "Startup Stories" series, where the writers of KrASIA speak with founders of tech companies in South and Southeast Asia.