Myanmar's education system is antiquated with schools promoting rote learning, according to Hla Hla Win, an English teacher from Myanmar, who–with a dash of luck–was able to complete a masters' degree at Harvard on a scholarship. 
In Myanmar, students are not taught to learn independently, Win  observed. Instead, they are trained to think that somebody (in this case the teacher) has the "correct answer".
With the digital revolution happening all around, an obvious solution would be to leverage on technology and smartphones to broaden students' and teachers' horizons.
However, it's not as simple as is sounds. In Myanmar, mobile phones are commonly perceived as entertainment devices only. Besides, the bulk of learning materials available online are either in Chinese or English but most Myanmarese understand neither. This further confines the students to the boundaries of their schools and the knowledge of their teachers.
Myanmarese are not fully benefitting from technology, Win told KrASIA in a phone interview; something she wanted to remedy by starting an education platform called 360⁰ed.
Win wanted to do something to help students take charge of their own learning instead of relying on the national education system that is slow to keep up with global developments.
360⁰ed is an education technology startup that applies augmented reality (AR) and virtual reality (VR) to learning materials, such as an illustrated and 3D-augmented alphabet flash card set. For educators, 360⁰ed is about providing policy advice, teachers training, and applying technological innovation to pedagogy. For students, 360⁰ed offers an affordable way to make learning fun and intriguing.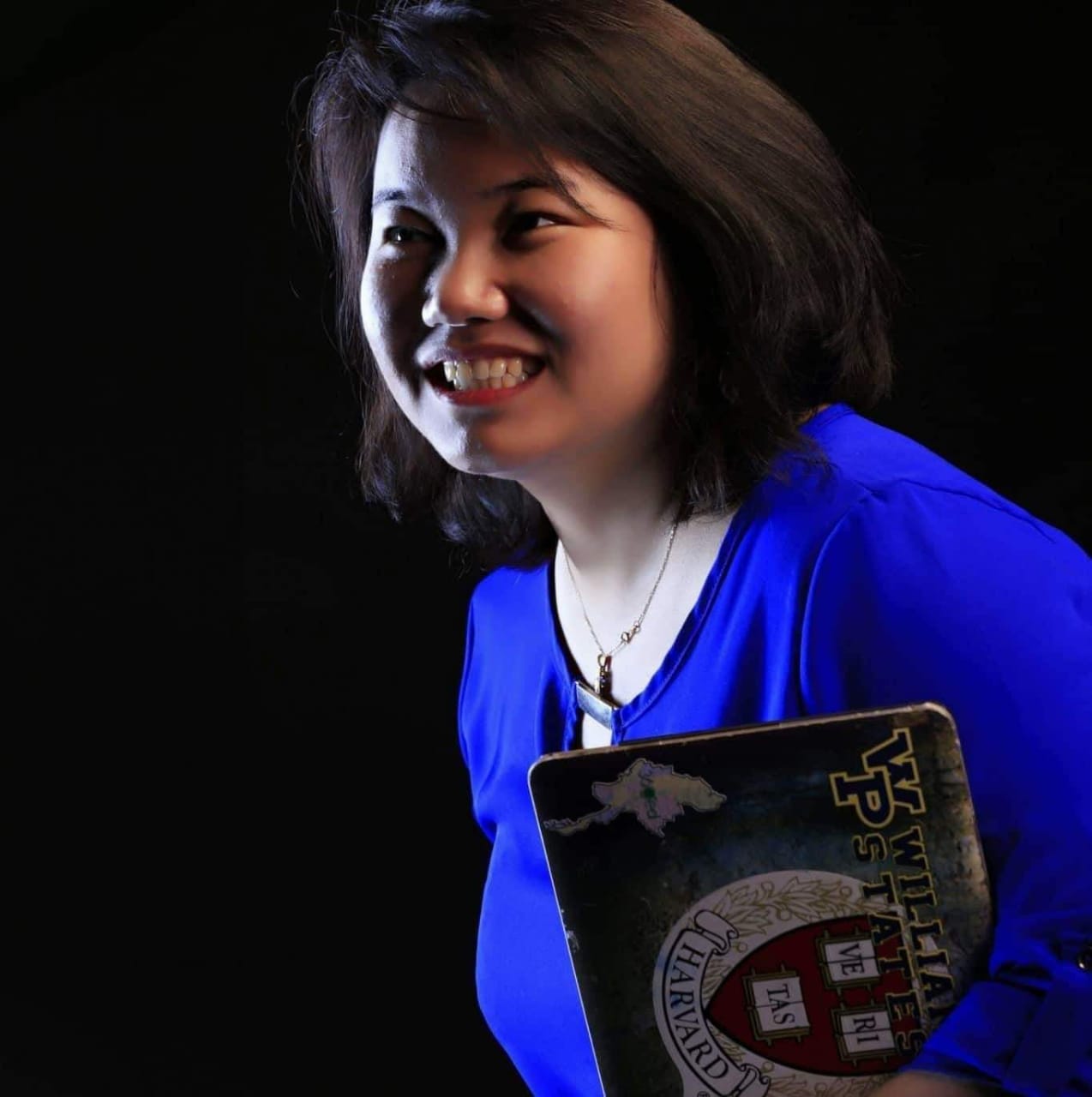 A twist of fate
Win's background has always been in education but it was only by a twist of fate that she ended up in this career path.
Born into an average family in Myanmar, Win's family could not afford to send her to college. So she hired a tutor to teach her English with the intention of becoming a tour guide. She never thought of becoming a teacher. In her country, it was considered a tiring profession with low pay.
Win successfully got her tour guide license, but her father did not approve of her becoming one. As she spoke English fluently, the next available job was to teach English. That was how Win ended up becoming an English teacher in an elementary school for four years, and she came to appreciate it. "It was only when I was teaching and I saw the sparkle in the children's eyes when they could understand something that I felt proud," Win said.
In 2015, Win received a full scholarship to do a graduate degree at Harvard University where she graduated with a master's degree in Public Administration from the Harvard Kennedy School of Government.
Win felt the desire to leave the country to pursue a graduate degree because she felt the need to grow intellectually.
"I never considered myself as book smart. I am street smart and I know how to make things happen. Problem-solving is my game so I wanted to challenge myself," she said.
A different kind of education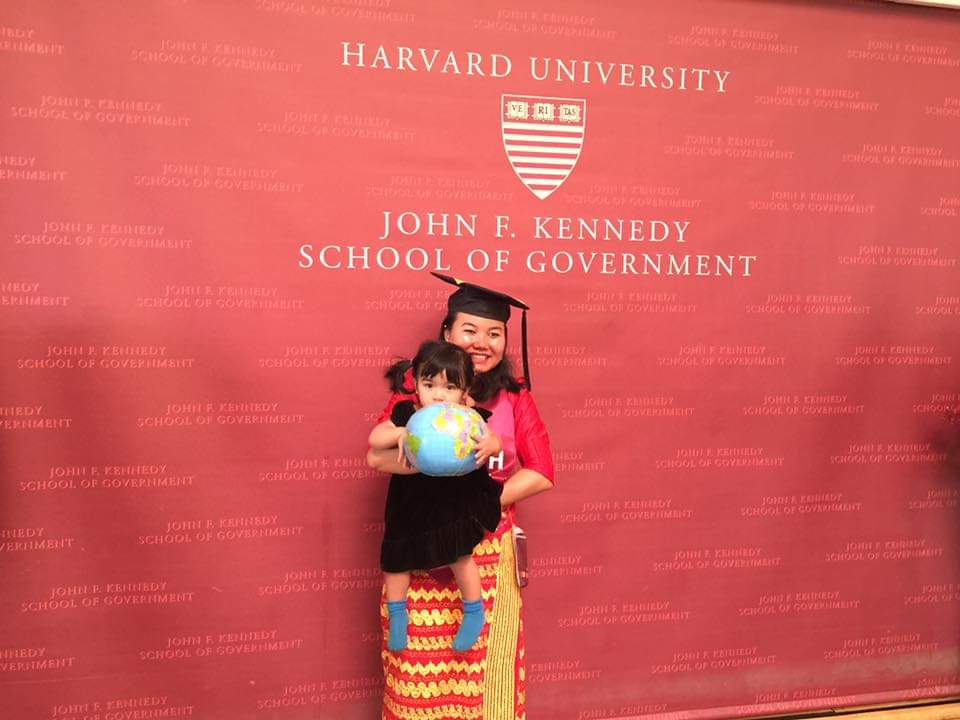 She fought hard to get that chance. She applied to Harvard four times in total; the first two times were in vain. When She finally got accepted into the prestigious graduate degree program on her third attempt, she was forced to choose between her unborn child or school.
Due to health complications, Win was advised to either terminate her pregnancy or give up on her scholarship. In the end, she chose to continue her pregnancy and defer her studies. She applied for the scholarship for a fourth time after delivering her daughter and was eventually on her way.
Win did not have an easy time at Harvard. She had issues with dyslexia–a condition that went undiagnosed for a long time. Bringing her newborn daughter along further added to the stress and difficulty.
However, it gave her the opportunity to look at the education landscape from a drastically different perspective, which laid the foundations for 360⁰ed.
"[Back in Myanmar,] I always looked at [the education system] as a teacher, a school founder, or policy analyst but at Harvard I was a mom. When I was in the United States I saw first hand the opportunities and facilities that kids there were given that students in Myanmar did not have," Win said.
Education as a luxury
During her time at Harvard, Win participated in a program organized by Singularity University. Called "Global Solution Program" it tackles global challenges by leveraging tech solutions.
She felt that the use of AR and VR had the power to bridge an important gap for children in Myanmar, to many of whom education was an unattainable luxury. However, her idea was not well-received.
"I went back home to Myanmar for a week and I tested the idea with a VR headset. I had a meeting with 200 school founders and teachers in Mandalay. I told them to try the headset and most of them were very thrilled but some of them had a 'no, I am going to retire soon, leave me alone' kind of attitude,"  Win observed. The young teachers were enthusiastic about the technology but the older generation pushed back.
Even as her idea was eventually selected for a trial, she had trouble finding investors. She found that the people who she pitched her idea to were ready to hire her as an employee of their companies, but they were not supportive of her idea as they did not think AR/VR could be applied for educational purposes.
Starting out on her own
Despite these setbacks, she did not give up.
One thing that Win had come to appreciate during her time in the US was the culture of hackathons. She frequently participated in them even though she's not an expert at coding.
When she returned to Myanmar, she started hosting hackathons. She spotted individuals who were as passionate about tech as she was and these people eventually became her first team members.
360⁰ed's first funding eventually came from someone who tried offer Win a job even though she was set on building her own company.  She refused, but was able to convince him to come on board as angel investor with a USD 135,000 investment in 360⁰ed.
Today, the startup has a team of more than 80 people building AR tools. It operates in several countries across the region with the biggest market being Myanmar, followed by the Philippines, and then Indonesia.