Jio Platforms has raised a whopping USD 13.7 billion from global investors in less than eight weeks, a feat probably no other seven-month-old company has ever achieved anywhere in the world.
The parade of investors, backing Reliance Industries Ltd's (RIL) digital arm, is equally eye-catchy. It includes social media giant Facebook; US private equity firms Silver Lake, Vista Equity Partners, General Atlantic, KKR, TPG, and L Catterton; and UAE investors Mubadala and Abu Dhabi Investment Authority (ADIA).
India's largest company by market capitalization incorporated Jio Platforms on November 15 last year. And with that, it set in motion a plan to unlock the value of its digital assets, with Reliance Jio Infocomm, its telecom venture,  at the center.
The plan, however, seems to have been in the works for over a year. Mukesh Ambani, chairman and managing director of RIL, had cleverly demerged tower and fiber passive infrastructure assets of approximately USD 16.4 billion from Jio Infocomm in March 2019. What remained of Jio Infocomm was the telecom services business, which became the foundation of Jio Platforms.
In November 2019, Ambani infused USD 22.7 billion in Jio Platforms, which acquired USD 8.53 billion worth of equity held by RIL in Jio Infocomm. This essentially meant Reliance's telecom arm would become a part of Jio Platforms. To make sure that the newly formed entity would be debt-free so as to attract investors, Ambani transferred USD 14.1 billion of Jio Infocomm's liabilities to RIL.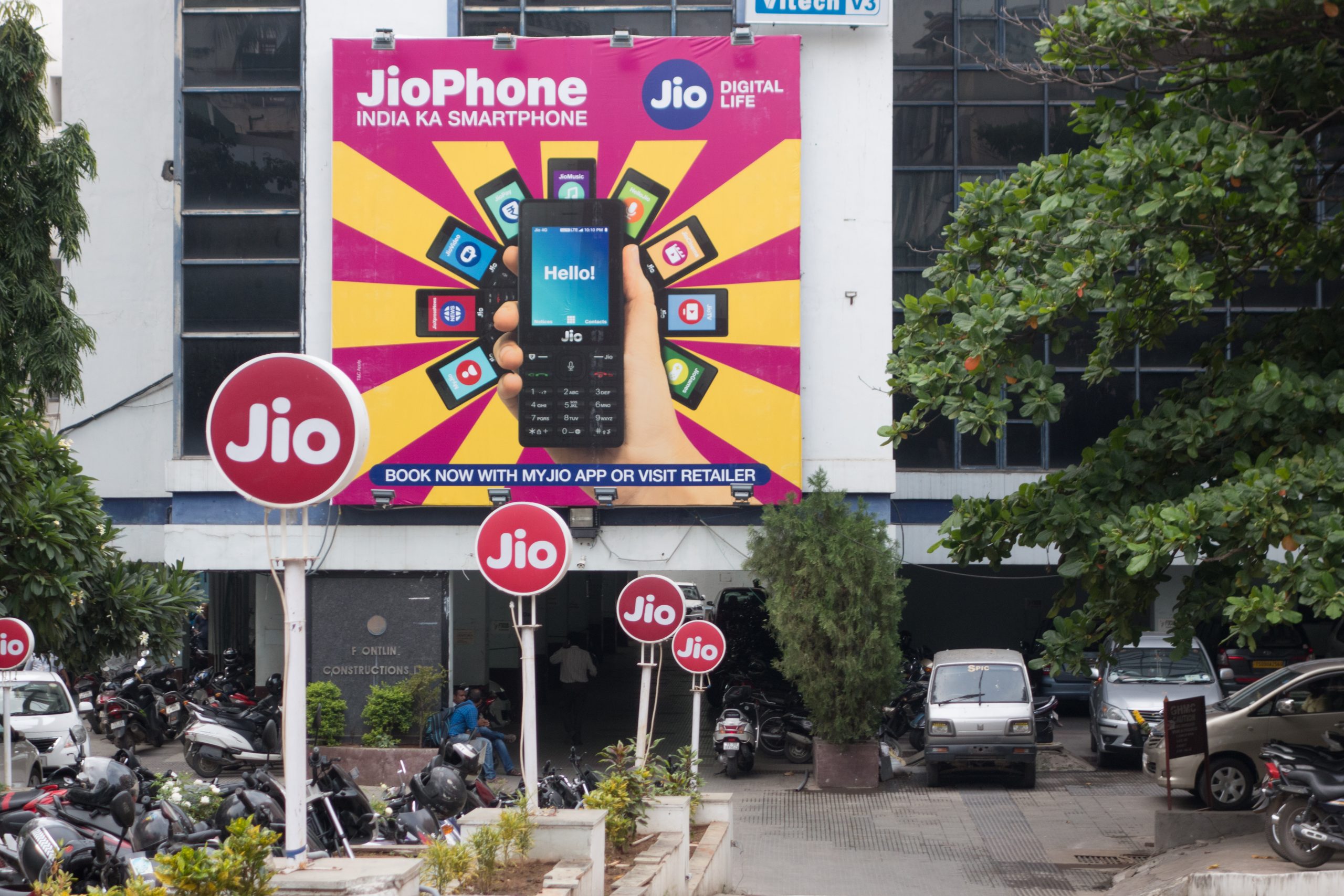 Jio Platforms thus emerged as a shining new venture that housed all of Reliance's telecom and digital assets– Jio Infocomm and its digital platforms like MyJio, JioTV, JioCinema, JioNews, and JioSaavn. It also received the company's tech capabilities like artificial intelligence, big data, and Internet of Things. Additionally, it subsumed the oil-to-retail conglomerate's tech acquisitions and investments such as Haptik, KaiOS, Reverie, Radisys, Den Networks, Hathway Cable, and Datacom Ltd, among others.
"This new company will be a truly transformational and disruptive digital services platform," Ambani had said in a statement announcing the new entity late last year, adding that the company had already received strong interest from potential strategic partners.
While Ambani's proposition was already tempting, what helped him sell his pitch to global investors in the coming months was the pandemic that descended upon the world earlier this year. He has been able to sell investors his vision of creating a digital India, primarily focusing on millions of small merchants, micro-businesses, and farmers.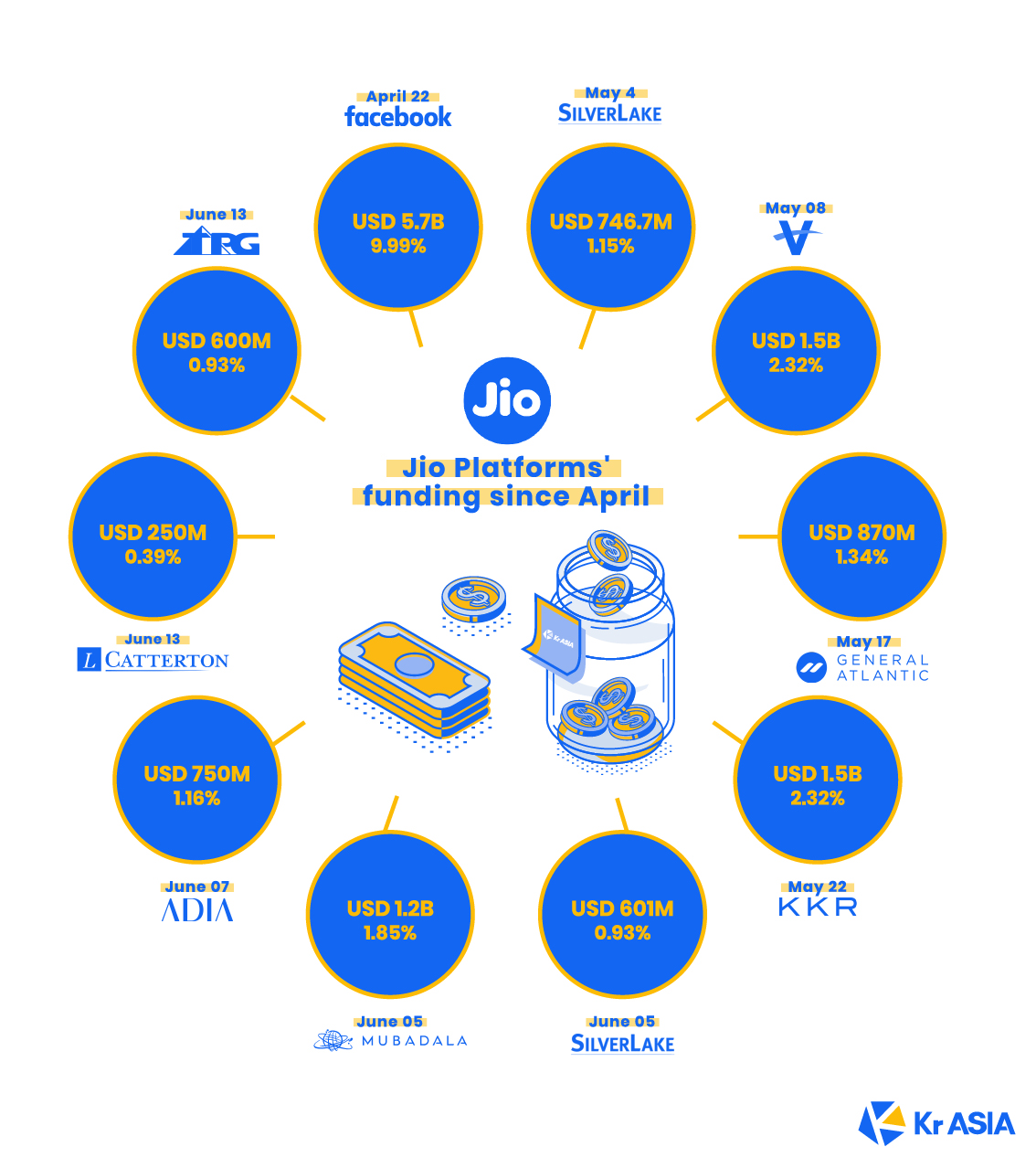 In the post-COVID-19 era, "comprehensive digitalization will be an absolute necessity for the revitalization of the Indian economy," Ambani has said in a statement unveiling Facebook's investment.
True enough, major global investors are quite keen to take part in India's digital transformation journey, spearheaded by Reliance. And Ambani has been able to unlock the value of Jio Platforms by getting nine top-notch investors to back the venture during a pandemic by divesting a total stake of 22.38%. But he doesn't seem to be stopping just yet.
A report by Gulf News said Saudi Arabia's wealth fund Public Investment Fund (PIF) is all set to pick up a 2.33% stake in Jio Platforms for an estimated USD 1.5 billion. If the deal goes through, Ambani would have diluted 25% equity of Reliance's digital arm.
The game plan
At the macro level, the proceeds would be partly used in repaying Reliance's USD 20.1 billion net debt (as of December 2019) which Ambani said he would bring down to zero by the end of this financial year. Over the last few years, Reliance had accumulated billions of dollars in debt, a significant portion of which came from its splurge on dirt-cheap internet services and handsets which made Jio Infocomm the top telecom player in the country.
In addition to getting cheques from global investors, Reliance has raised USD 6.9 billion from a rights issue that closed earlier this month, bringing it closer to become debt-free by December.
But looking at the finer details, Reliance gets much more than just money by having an array of strong backers. While it needs funds to cut debt and invest in the digital ecosystem further, experts believe, that these investors bring individual know-how to help Jio Platforms capitalize its various tech assets, get it listed, and expand its footprints internationally.
Of all the investments, Facebook's has been the most beneficial one for Jio. And that is not only because the Menlo Park, California-headquartered firm, has invested the most. For Reliance, it is more than just a financial investment from Facebook. According to the agreement, Reliance's e-commerce venture JioMart would use WhatsApp to sell its products directly through Facebook's chat platform which has over 400 million users in India.
This essentially means that Facebook is putting its weight behind JioMart, which currently competes with e-grocers Bigbasket, Grofers as well as e-tailers Amazon and Flipkart, which are going all out to tap India's burgeoning online grocery market.
JioMart is a joint venture between Reliance Retail and Jio Platforms, which is on an expansion spree to increase its nationwide coverage across tier 1 and 2 cities.
"JioMart will look at empowering kirana [neighborhood stores] owners by bringing them online and [getting them] organized, with a hyperlocal supply and logistics chain, catering to customers using the power of the ubiquitous WhatsApp," Prabhu Ram, Head-Industry Intelligence Group at CyberMedia Research (CMR) told KrAsia.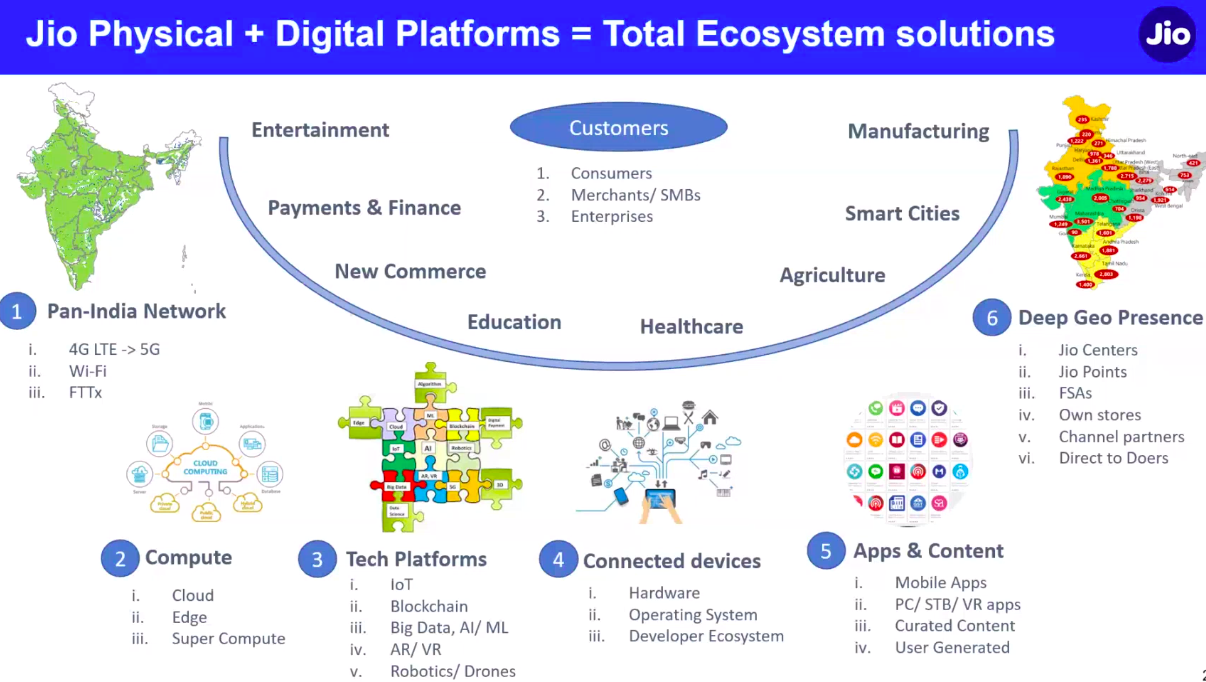 A fine strategy
The fact that Reliance first closed Facebook's USD 5.7 billion deal, seems like Ambani's another ingenious strategy. Private equity firms are primarily interested in monetizing the user base a company has.
While Jio Infocomm, with an audience of about 388 million, has been creating cash flows through its telecom services and subscription-led digital platforms, JioMart's e-commerce play with the help of WhatsApp takes the entire proposition to another level.
No surprise then, that American PE giants and Abu Dabhi-based deep-pocketed sovereign funds were eager to join Jio Platforms' cap table.
Experts believe that it is Jio Platforms' ability to create multiple revenue streams from the same user base that has enchanted investors.
"For an investor, this is pretty shining and the growth in the user base is also good quarter-on-quarter. When you are able to add that kind of subscriber base and do multiple times monetization, then of course it makes it very interesting as a company," Sanchit Vir Gogia, founder and chief executive, Greyhound Research, a New Delhi-based technology research and advisory firm told local media Mint.
The capital infusion gives Jio Platforms leverage to "start a fresh investment cycle in apps and other services" as well as "much-needed cushion to not raise prices for its services and tariffs," Gogia believes.
Jio Platforms also has an opportunity to find synergies with its new backers who have an expansive network of portfolio companies in India.

For instance, Facebook and General Atlantic, both are investors in Indian edtech giants Byju's and Unacademy. Reliance, which had shown its interest in this space by acquiring digital learning platform Embibe, in 2018, can take advantage to tap the booming edtech market.
Similarly, KKR, having invested in Max Healthcare and Radiant Life Care, among others, has a deep-rooted presence in the Indian healthcare segment, which could be a potential area of interest for Reliance. Meanwhile, ADIA has a special focus on the insurance sector, another area RIL has a keen interest in, Gogia, in a recent report, said. With Mubadala's investment in the US chipmaker AMD, Gogia believes, the sovereign wealth fund can aid Jio's data centers in the country.
Investors such as Silver Lake, General Atlantic, TPG, and L Catterton also bring with them a deep understanding of consumer-tech business, primarily in the e-commerce industry. This would be valuable for Reliance as it looks to replicate its offline retail offerings in the online world and create an omnichannel retail empire.
Moreover, Vista and KKR are expected to aid Jio Platforms in improving a myriad of its consumer apps, which, according to Gogia have received "lukewarm response," except its music streaming platform, JioSaavn. While Vista has the subject matter insights that can help the Mumbai-based company in "improving its apps and kickstarting its software business especially with enterprise customers," he stated, KKR has expertise in "scaling consumer apps" having invested in TikTok-owner Bytedance.
Mubadala, which has invested in telecom, data centers, and IT services companies in its home market, Gogia added, can take Jio Platforms to UAE, jump-starting its international expansion.
The end game
In its March quarter earnings presentation on April 30, Reliance said it has achieved half of the targeted value unlocking in Jio Platforms. And that was just from the Facebook investment. In the following six weeks, it raised another USD 8 billion, which was significantly more than what it had initially anticipated. Now that the company has already met its fundraising target, Jio Platforms is all set for the end game, a mega IPO.
With backers like Silver Lake and General Atlantic, Jio Platforms would get all the help it needs towards a successful IPO. The Silicon Valley-based investor was one among those that infused USD 500 million in Alibaba in 2011 and 2012. When the Chinese e-commerce giant got listed in 2014 with a blockbuster IPO on the New York Stock Exchange, Silver Lake accrued stakes worth more than USD 5.1 billion, after reaping USD 278.8 million by selling a fraction of its holdings. General Atlantic has had a similar experience as it was involved with supermarket chain DMart as an anchor investor, ahead of its IPO, according to Gogia.
While the recent funding spree in the midst of a pandemic has been in the limelight, CMR's Ram said he looks at "these investments as a vindication of the strong powerplay that Jio created over the past three years, slowly building up its value proposition through a string of acquisitions and homegrown initiatives."
"Jio has gradually increased its footprint across retail, education, AI, entertainment, and payments, among others," he said. "That, plus its 388 million-strong subscriber network, is why investors are flocking to it."
Ram believes COVID-19 will hasten the pace of digital transformation in India and Jio is well-positioned as a disruptor offering an array of digital services through horizontal and vertical integration.
It is to be noted that all the 10 transactions are subject to regulatory approvals. Facebook's investment, meanwhile, is likely to undergo tighter scrutiny from Indian regulators, given the concerns regarding net neutrality, a Mint report stated.