Reliance Retail, the USD 58 billion-retail arm of Reliance Industries, owned by Asia's richest person Mukesh Ambani, is all set to create an omnichannel empire in India that may give American behemoths like Amazon and Walmart, a run for their money in the South Asian nation.
The oil-to-internet conglomerate after having raised USD 20.2 billion from 13 marquee global investors for its digital venture Jio Platforms earlier this year, is now in talks with heavy-weight investors to back Reliance Retail. Already three of these 13 Jio Platforms' investors have written checks for Reliance Retail, loading its war chest to woo the online shoppers who currently flock major e-tailers such as Amazon, Flipkart, and Snapdeal.
Earlier this month, Ambani's retail arm raised a total of  USD 1.7 billion in funding from US-based investors Silver Lake and KKR. On Wednesday, General Atlantic came onboard the cap table of Reliance Retail by putting in almost USD 500 million for a 0.84% stake. Reportedly, Abu Dhabi-based sovereign investment firm Mubadala, another backer of Jio Platforms, is also looking to invest up to USD 1 billion in Reliance's retail entity.
The business magnate is betting on Reliance Retail's "new commerce" strategy which the company had been working on over the last couple of years. It centers around digitizing millions of small retailers including mom-and-pop stores. Once digitized, they would eventually cater to Reliance's new e-commerce venture, JioMart. Essentially, JioMart would enable small retailers' digitization through Jio's point-of-sale solution at the backend and allow them to connect to end-users through the JioMart app on the frontend. According to the company, new commerce is a business opportunity worth USD 700 billion.

JioMart, a joint venture between Reliance Retail and Jio Platforms, is the most important piece of the puzzle that's charming many high-profile investors. Rolled out in May across 200 cities, JioMart plans to leverage WhatsApp to reach out to the masses, offering chat-based online shopping.
In fact, it was due to the COVID-19 lockdown that the JioMart launch was fast-tracked to capture the soon-to-be USD 10.5 billion online grocery market.
An e-tail story in making
Over the last six years, Reliance's focus was on opening more brick-and-mortar stores and partnering with brands across categories, Satish Meena, senior forecast analyst at Forrester told KrASIA. Moreover, a majority of their investment went into building its telecom business Jio Infocomm.
"They did not want to open two taps at the same time because setting up an e-commerce business would have required a lot of funding," he said. "Now that Jio is standing on its own, they have changed gears toward JioMart."
Although Reliance did try building online shops on the sidelines, without going mainstream.
From 2014 to 2018, Reliance made three attempts to capture the market share of India's burgeoning e-commerce space. However, poor execution and a lack of understanding of user behavior continued to be a challenge for the company.
The Mumbai-based conglomerate launched Reliancefreshdirect.com to deliver food and grocery products in late 2014, hoping to tap into the network of 700 outlets of its offline brands Reliance Fresh and Reliance Mart. However those plans never materialized and within a year, the company put the website on the backburner.
In April 2016, Reliance launched a fashion portal Ajio.com to cater to millennials and Gen-Z. It offers 1,400-plus local and global brands, in addition to some of its brands. Unlike its previous endeavor with the online grocery store, Ajio.com has been doing fairly well. In fact, in the second quarter of this year during the pandemic, Ajio.com came as a savior and drove demand for its offline fashion store chain Reliance Trends, where the company primarily sells its in-house apparel brands.
"Fashion is the only (online) segment where Reliance has done a bit well," said Meena.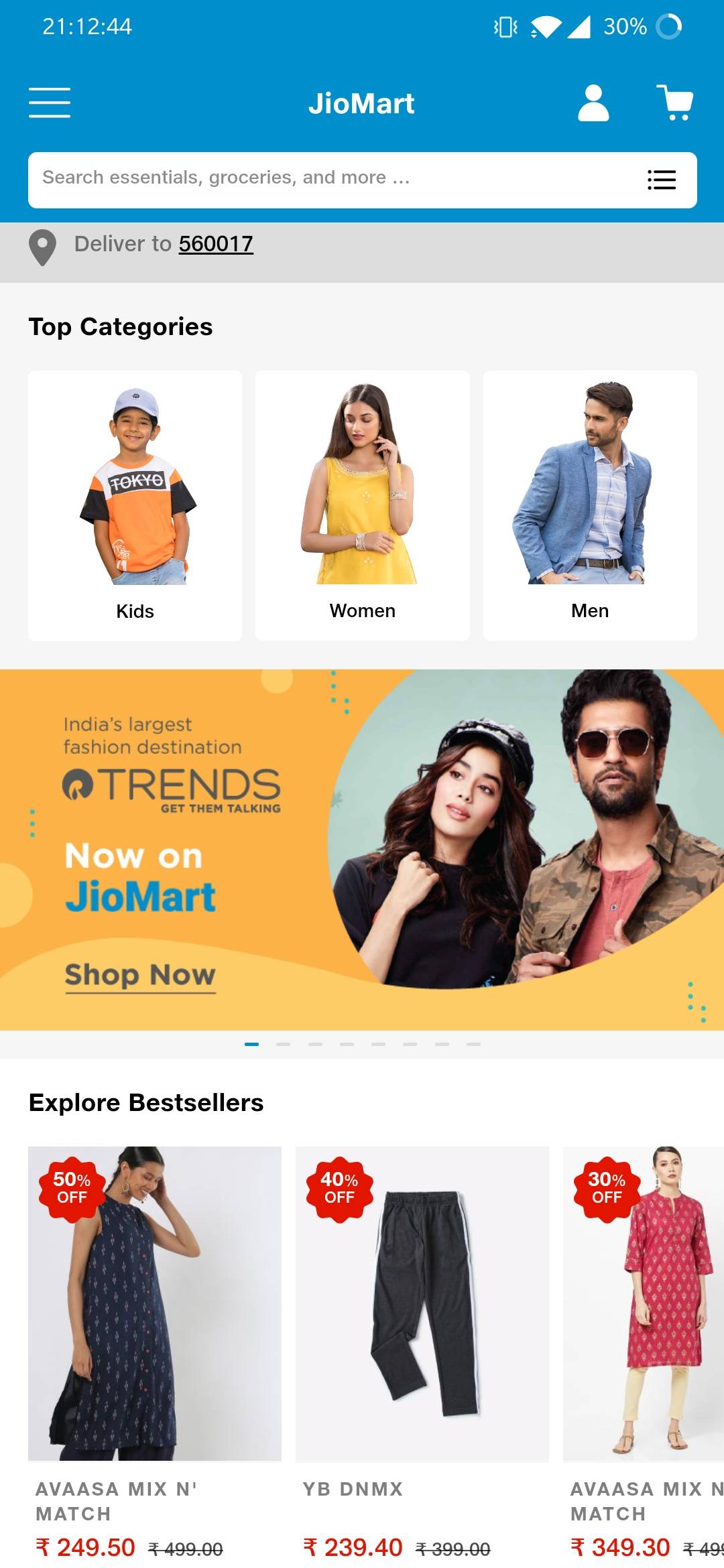 Although Reliance had a strong offline presence with Reliance Digital in the electronics category, it didn't start an online version of it to avoid competing with Amazon and Flipkart at a time when there was a discount war going on between them, he added. The e-tail giants were also locked into a fierce battle to land exclusive partnerships with smartphone and television manufacturers, to get an upper hand over another.
Reliance being a traditional business house has always looked at unit economics and a for-profit model, said Jayanth Kolla, founder and partner at Bengaluru-based business consultancy firm Convergence Catalyst.
In July 2018, seeing the huge upsurge in the online purchase of electronic products, Reliance gave in and launched Reliancedigital.in to directly compete with Amazon and Flipkart. However, the platform never grew big enough to be called their rival despite offering deep discounts and some exclusive models.
According to Meena, having exclusive deals with smartphone and other electronic product manufacturers is intrinsic for the success of an e-commerce firm.
"More importantly, it is the return and refund process that defines the customer experience," he said. "Here customers are pampered by Amazon and Flipkart. They get superior experience, without paying anything extra."
For Reliancedigital.in, it has been visibly hard to meet those standards and lure customers away from the duopoly of Amazon and Flipkart.
The right timing
While in the last six to seven years, e-commerce majors Flipkart, Snapdeal, and Amazon pumped in billions of dollars in developing the infrastructure around e-commerce in the country, Kolla told KrASIA, Reliance did not play the startup game.
It's only when the top 100-150 million Indian consumers got comfortable ordering online, and the e-commerce market hit the critical mass, Reliance entered the space to eat everyone's lunch.
Apart from the consumer-side market readiness, the resistance from distributors and retailers to go online has also come down, since they have realized that e-commerce is here to stay, said Kolla. The healthcare pandemic has further accelerated online adoption among consumers and retailers.
"It is all about timing," Kolla said.
Ambani realizes this very well, and unlike other Indian business tycoons, is going all out to tap this opportunity.
Earlier this year, when offline retail in the country slumped due to the pandemic, the company brought back Reliancedigital.in, which had been lying dormant for some time, and started a separate online platform for its jewelry business, Reliancejewels.net. Not to mention, the rollout of its mega e-commerce venture JioMart.
Ambani's ambitious online commerce platform started with grocery, which is where its strength lies. Soon after, Reliance Trends went online on JioMart. The company is now gearing to add consumer electronics to the mix.
However, Meena believes it is the grocery category that would define how much they can achieve in e-commerce.
In late August this year, Reliance acquired Future Group's retail, wholesale, and logistics and warehousing business for INR 247 billion (USD 3.3 billion). Moreover, the company ensured that Amazon, which held an indirect stake of 1.3% in Future Group's retail arm Future Retail, stayed out of Reliance Retail post the deal, and that Future Group doesn't enter the retail business for 15 years.
Two weeks after the said deal, Amazon invested USD 37.3 million in Witzig Advisory Services, holding company of the supermarket chain, More, along with private equity firm Samara Capital.
"Post the deal with the Future Group, Reliance now owns almost 40% of the organized grocery market. Meanwhile, their other offline categories aren't doing that great," Meena said. "So they are playing to their strength."
Reliance Retail currently has about 12,000 stores with 125 million-plus registered customers. Moreover, the conglomerate has created a subscriber base of almost 400 million with Jio. Now, Ambani wants to leverage the physical infrastructure and digital user base to sell grocery, consumer electronics, and fashion and lifestyle products online.
The critical act of balancing 
The Future Group deal adds 1,800 retail stores to Reliance's existing network across categories including grocery, lifestyle, and fashion. Although the acquisition of Future Group's retail assets has added to Reliance's offline resources, there is a flip side to it.
For any company that has heavily invested in offline retail, it is very difficult to go online, as that would mean competing with its own offline distributors and retailers, explained Kolla.
The challenge here is two-fold. Managing inventories online and offline in a way that it doesn't cannibalize its own business, and balancing discounts across these two channels as giving more discounts online to compete with other e-tailers could be detrimental for brick and mortar stores.
"They need to find the right balance in terms of different products and pricing," said Kolla.

Reliance Retail has also been onboarding neighborhood stores, also known as kirana stores, onto JioMart, which will fulfill user orders from these kirana shops. Moreover, these kirana stores buy their inventory from Reliance Market, the wholesale arm of Reliance Retail. So in a way, it will complete the loop for the company. To be sure, Amazon and Flipkart also work on a similar model, but their offline presence isn't as big as Reliance's.
This ensures a two-way revenue channel for these e-tailers–earning through margins when supplying to kirana stores, and charging a commission to kiranas for online orders that they receive through their e-commerce platform.
"Deciding at what point you will pass orders to kirana stores or will choose to fulfill orders through your own store is a very challenging task," believes Meena. "You have to give kirana stores enough orders to ensure that they continue to work with you."
"In fact, bringing the merchants online is easy, but continuously giving the orders is the painful part," he said.
In a recent analyst presentation, the company said JioMart is working on developing a marketplace model, which could mean onboarding third-party retailers across the categories. This may be where the digitization of some 20 million small and unorganized merchants under its new commerce strategy would fit in, in its grand scheme of things.
Industry analysts believe that going forward Reliance will have to integrate all its online properties including Ajio, Reliancedigital, and RelianceJewels into one platform.
"If you look at it, Reliance's strategy has been to reach out to households and sell more items at less margin, and ultimately making money on volumes," Meena said. "They are doing it with Jio Platforms where they are giving you internet connection, phone connection, and setup box with access to OTT (over-the-top) services. They will do the same through their e-commerce initiative."
The idea is to have a bigger pie out of household consumption. This, in turn, will help the company achieve its aim of increasing the revenue contribution of its retail business to over 50% from the current 30%, as it looks to cut down the dependency on the oil and gas business.
"If you are targeting a household, you have to have an integrated view toward customers. That's why Reliance is likely to put all the platforms in one place," Meena said. "But the more challenging part would be to integrate the full-fledged online retail platform with their offline stores."
"For now, they are putting together all the building blocks," he added.
Although Flipkart and Amazon may have better analytics, personalization and recommendation system, and an understanding of online shoppers, deep-pocketed Reliance may still be able to crack e-commerce, according to Kolla.
"If what they have done and achieved with Jio is any indication," he said, "Reliance is extremely well-positioned to take a slice of e-tail market with JioMart."