Asmita Kumari, a 26-year-old resident from Patna, the capital of India's northern state Bihar, has always been a cautious online shopper. She bought a handful of products from various e-commerce platforms in the past one year, with one packet of charcoal face mask from Snapdeal being an unusual purchase that would not have happened had she not stumbled upon a short video on one of the e-commerce sites.
"My friends in the past have talked about it but we never bought one from a shop since we were not sure how it would work. Seeing the video on Snapdeal made me realize I should try it once," she told KrASIA.
How Snapdeal uses short videos to persuade skeptical customers like Asmita into buying from it, is part of a growing trend that has seen Indian e-commerce players becoming increasingly well versed in turning the country's short video frenzies into a buying spree.
As more and more people in the world's second-largest populous country gobble up videos from their smartphones, audio-visual is increasingly being used as a strong tool for e-commerce companies to convince users, especially those from smaller towns, to shop online. A joint report by Bain & Company and Flipkart said that video consumption in tier 2 and smaller towns in India grew by more than four times just in the last year. And e-commerce companies have started using visual search tools, live-streaming sessions, and influencer videos to gain traction and increase customer stickiness.
As the race to tap the next 200-250 million new internet users from tier 2, 3, and beyond cities gets more competitive, India is seeing a breed of new e-commerce players that are hungry to tap this unexplored opportunity.
E-commerce platforms like Simsim and Bulbul heavily rely on videos instead of text and images that traditional e-commerce companies use to describe and market products.
"People who have come online in the past two to three years is video-first demography. We want to talk to them in their language and in the medium they are most comfortable with, which in this case is videos," Sachin Bhatia, founder, Bulbul, told KrASIA.
Serial entrepreneur Bhatia, who has co-founded TrulyMadly, a dating app, and MakeMyTrip, launched Bulbul in March 2019. His hypothesis was, the existing incumbent e-commerce companies like Amazon, Flipkart, and Myntra weren't localizing their offering for users beyond metro cities.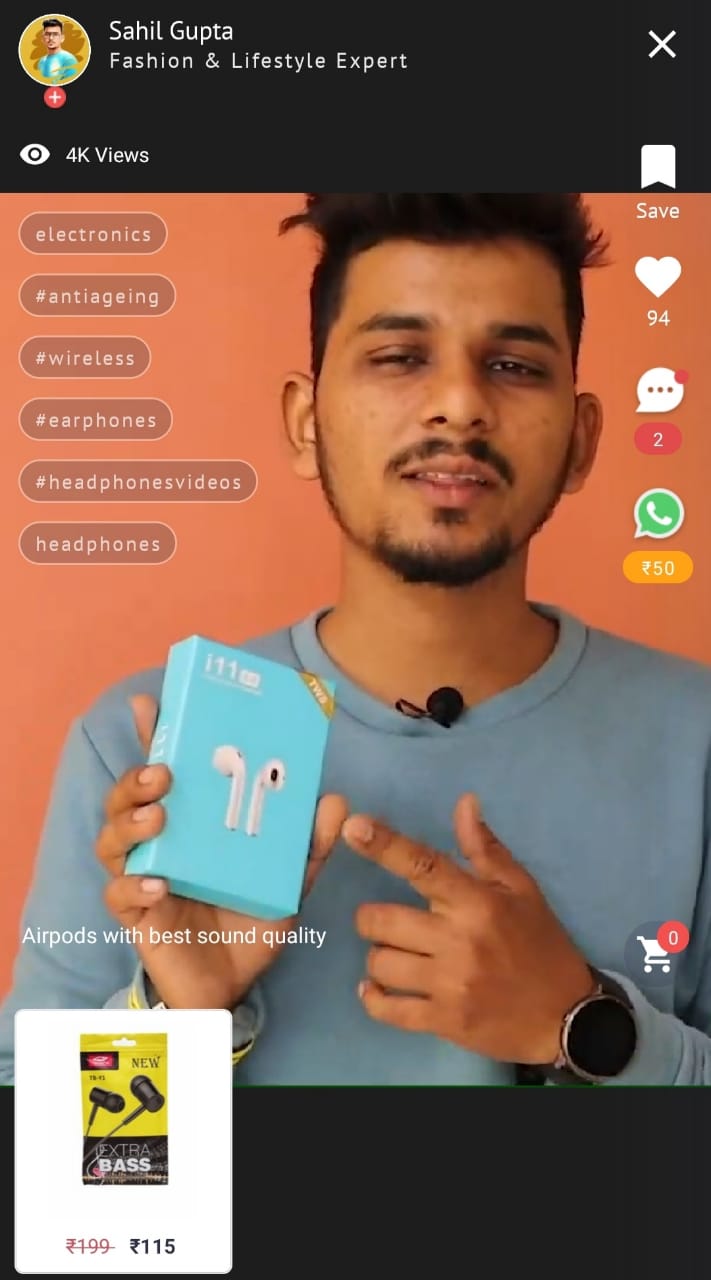 "My intention was to make online shopping more real. Right now, we have an intent-driven, solitary shopping experience. Shopping is a social experience and it should be interactive," he said.
Amit Bagaria, who co-founded Simsim, another video-led e-commerce company in June 2019, said making the communication more audio-visual and less text-ish was one of the pillars on which he and his co-founders, Saurabh Vashishtha and Kunal Suri, built Simsim.
"We had a firm belief that this new user base requires a different type of platform if electronic commerce needs to be served to them. We learned that most of the internet users from semi and non-urban cities were not comfortable with reading product descriptions in English," Bagaria, co-founder, Simsim, told KrASIA.
Like all other consumer-facing technology products that cater to new netizens, Snapdeal, Simsim, and Bulbul have also made their apps available to users in local languages such as Hindi, Marathi, Tamil, Bengali, and others.
Creating a new market
Till two years ago, when there were less than 500 million Indians—largely from the metro cities—online, it had seemed that the e-commerce industry would be a duopoly claimed by Walmart-owned Flipkart and Amazon India which have a strong footing in bigger cities. Then came Reliance Jio in late 2016, which, with its dirt-cheap mobile data plans that has brought millions of new users from smaller towns and cities on the internet for the first time, expanding the scope of the market for every internet company. According to a Statista report, India has over 560 million internet users, which is estimated to grow to 660 million by 2023.
One of the beneficiaries of an enlarged market is Gurugram-based Snapdeal, backed by high-profile investors including SoftBank, Temasek, Alibaba, eBay, Foxconn, and Kalaari Capital, among others. It had its peaks and troughs in India's competitive e-commerce sector. At one point it was almost written off as one of the leading e-commerce companies and was looking for buyers, when suddenly a new market came its way.
"There was a tectonic shift in the industry which no one had expected. Because of Jio, the demographics of internet users suddenly started to change," Kunal Bahl, co-founder, Snapdeal, told KrASIA.
With tools such as gamification and discovery centric shopping experience, Snapdeal has made a turn-around for itself by targeting new users from smaller cities that were eager to use a platform they were comfortable with.

The lure of reaching new internet users has forced Flipkart and its fashion subsidiary Myntra as well to start using videos to showcase their products. Kalyan Krishnamurthy, CEO of Flipkart Group, in an interview with local media Economic Times (ET), said,  around 50-60% of new users who come into the consumer internet funnel each year in India make their first transaction through a video platform.
However, Bagaria and Bhatia, believe that while the incumbent players have recently discovered the power of videos to reach the new set of consumers, it's still a side-gig for them and if they ever want to do this full-time it will take a lot of overhauling to do.
"At best, Snapdeal and Flipkart will put a senior product manager to lead this new initiative. But for us, everyone, right from the founders to senior management does this day in and day out. Others coming in will help the video-led commerce market, but we intend to take the command in our hands," Bhatia said.
While Snapdeal and Flipkart have separate tabs on their platforms where they feature videos for product discovery, the new e-commerce companies exclusively rely on audio-visual elements to portray their selection.
Relying on content creators
Currently, the videos that Snapdeal posts on its app are largely product shoots. On the other hand, Flipkart, Simsim, and Bulbul use mini-influencers who make demonstrative product videos, which, these companies said, are more effective due to the personal touch.
"We wanted to replicate the offline shopping experience. So, our videos are more demonstrative in nature. Our content creators would show you their beauty routine, and if it's a juicer they are selling, they'd make juice, disassemble the juicer, show the ease with which it can be washed, among other things," Bhatia said. This, he said, makes the potential buyer believe that the product they are buying is genuine and they will get exactly what they are seeing.
Akshay Bhushan, a partner at Lightspeed Venture Partners, said a lot of the videos on Myntra and other traditional e-commerce platforms are catalog videos, which, he said works for these platforms as they already have a set of large customer-base that trusts them. Bhushan has been keenly following this space and has "met a bunch these companies" to understand the economics of using videos to sell products.
"Compared to the standard e-commerce conversions which would be about two to three percent, we were almost consistently seeing double-digit conversion rates on our platform," Simsim's Bagaria said.
Both companies declined to give their user numbers. However, Bulbul said in February, before the lockdown, that the company was clocking 6,000 orders a day. "We are slowly reviving it again after the lockdown. We now do 1,000-1,500 orders a day," claimed Bhatia, adding their conversion rate is about seven to eight percent.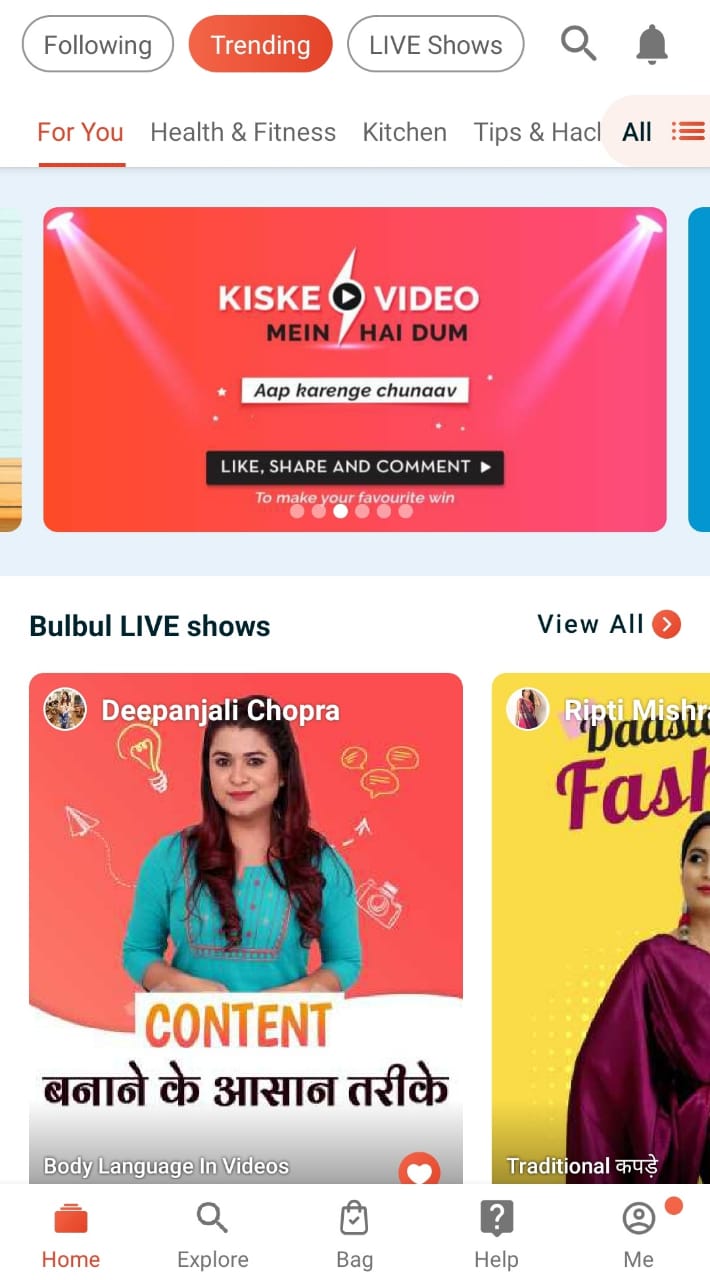 Considering the high conversion rates and the target base these companies are after, investors are also betting on these platforms hoping they would claim a significant market share. In February, Simsim raised USD 8 million in its Series B round from Accel, Shunwei Capital, and Good Capital, taking its total fundraise till date to USD 16 million. Bulbul, on the other hand, had raised USD 5 million from Sequoia Capital in March last year.
Involving audio-visual content creators to make the product pitch, has also allowed these video-led e-commerce platforms to reduce their marketing costs, companies claimed. The creators on both platforms earn commission on every sale that happens after a user watches their video. This gives them the incentive to share these videos among their friends and family circle, thereby increasing the traffic to these apps.
As of now, none of these players work with influencers or celebrities to make promotional or explanatory videos. Rather, they rely on a set of creators who can make content in large volumes. They are vetted based on their video making and presentation skills.
"If I have a special promotional video to make for a festival, then I might ask a few TikTok stars to make videos for us, but that is not the primary model. We need people who we can regularly work with and whose income/livelihood depends on this," Bhatia said.
While Snapdeal said there are 1,000s of videos on its platform which attracts a majority of its traffic, Bulbul said it has amassed over 12,000 videos.
Learnings from the land of live e-commerce
India's video commerce market is different compared to China's which is largely led by live-streaming of videos. In 2019, China's live-streaming market reached about RMB 90 billion (USD 12.77 billion) and is expected to reach RMB 112 billion in 2020.
While Simsim, Snapdeal, and Flipkart don't have live videos on their platforms, Bulbul claimed it's the only platform to stream live-videos where creators talk about their favorite products and take questions from users. Bhatia said, about 10% of its content on the platform is live videos.
"We do about 18 hours of live-streaming a day. But, most of the sales happen through recorded videos. Live-streaming as of now is more for engagement and interaction with users," Bhatia said. He said, he is keenly following China's live-streaming led e-commerce trends and "there are plenty of learnings to implement in the India market."

He said the model of relying on pre-recorded videos to sell online is unique to India; this template has not been scaled up anywhere, yet. Bhatia realizes that to increase more engagement, Bulbul will have to use a lot more live-streaming content.
"A lot of these companies are trying to tap the audiences that are comfortable buying lower ticket size products that are usually unbranded products. Video demonstration in general, be it pre-recorded or a live-video, helps in pushing such unbranded products," Bhushan said.
As of now, most of the products in the category of electronics, apparels, home and kitchen, and footwear, that Simsim, Bulbul, and Snapdeal sell on their platforms are unbranded products compared to what Flipkart and Amazon have in their catalog. But going forward, Simsim said, it will add branded products to compete with the existing market leaders.
"Eventually we want to serve the entire consumer base of India. We do believe that this is the way e-commerce would shape in the long term in the country. As our platform grows in size and form, we would be able to compete in every other facets with the incumbents," Bagaria said.