When talking about creative design software, Adobe or Canva might be the first two names that come to mind for many designers. However, Malaysia-based Inmagine Group is trying to enter the competition with its in-house software named Designs.ai.
Founded almost 20 years ago by Andy and Stephanie Sitt, Inmagine Group has been recognized as one of the top players in the stock content market, thanks to its online repository 123RF, which provides over 150 million images, audio clips, and videos to 19 million active users.
However, they didn't stop there, as the company has been making strategic acquisitions and launching new services. "We want to cater to all market segments," said Warren Leow to KrASIA. Leow is Inmagine's VP of partnerships and revenue, as well as CEO of Designs.ai.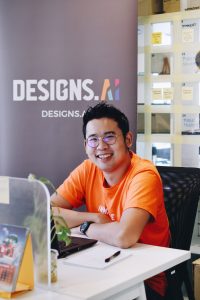 In 2017, Inmagine Group acquired Sweden-based cloud and mobile photo editor app Pixlr from Autodesk to enter the content editing market. The platform still operates under the same name, but after the acquisition, 123RF's team expanded Pixlr's library, adding new design tools and content to the platform, according to Leow.
In December 2019, the firm also launched Designs.ai, an integrated AI-powered online creative platform. Designs.ai utilizes machine learning to automatically categorize images, audio, and video, while it also handles basic work in the design process such as refinement and size adjustment, according to Leow.
At first glance, Designs.ai's main features share similarities to competitors such as Australian-based Canva or Adobe Creative Cloud. However, Leow explained that the platform relies on AI to help users work more efficiently, allowing creators to produce initial designs for logos and videos "within two minutes."
The cheapest package for a logo project starts at USD 19, while a video package project costs at least USD 33. In comparison, Adobe Creative Cloud costs USD 79.49 per month for full access, while Canva has a monthly cost of USD 12.95 but lacks some features available on Designs.ai, such as automatic multiple template adjustment. Currently, Designs.ai focuses on the business-to-business (B2B) sector, working with corporate sales teams and agencies globally. 
According to a report by Adobe, the creative tools industry will have an addressable market size of USD 31 billion by 2022, and Inmagine wants a part of it. KrASIA spoke with Leow about the functionalities of Designs.ai and Inmagine Group's business model.

KrASIA: How does Designs.ai fit into Inmagine Group's general business strategy? What potential does the design market hold?
Warren Leow (WL): What we are trying to do is create an all-in-one platform that uses AI to simplify the creative process for many different people. Ultimately, the goal is to create something quickly, within two minutes, that will be the benchmark for the initial product, be it logos, videos, or audio files.
What we have at Inmagine are a few tools like 123RF, a marketplace for stock photos, and Pixlr, the main competitor of Photoshop online. Now, Designs.ai fits in because it has a target market segment, the communicators market. Each of our products fits different segments. Designs.ai fits startups, marketing departments, students, and educators, where essentially it's all about ease of use.
Kr: How has Designs.ai performed since its launch?
WL: December [2019] was a soft launch, but our products were actually ready by the end of Q1 this year. So far, we are still ramping up.
We are still mostly in the B2B sector, as most of our customers are sales teams from companies. At the moment, we have tens of thousands of users monthly, which is still not a high number, but we are getting traction.
I can't disclose names, but we are working with the largest bank and printer company in Japan, and we've done a deal with the largest education publisher in Singapore, where they use our tools to create educational content. In Europe, we've got traction with a couple of different agencies. Things are still a bit immature, but we're beginning to refine the enterprise playbook because, ultimately, the tools have proven to be quite useful for the customers.
Kr: Where do most of your users come from?
WL: The traffic profile is rather similar to other businesses in our group. Around 30% [of the users] are from the United States, roughly 40% from Europe, and the others from the rest of the world.
Kr: Why do you prefer project-based subscription instead of time-based?
WL: We actually have plans to switch to a time-based subscription, as we're still currently ramping up products.
In Designs.ai, we provide quite a lot of freemium tools to acquire users. For example, tools like our Colormatcher and Graphicsmaker are used by designers and creative people around the world. For Graphicmaker, it is still free to use, as long as people give attribution to us. Ultimately, these channels are a mode for traffic acquisition now, but we are going to monetize them in the future.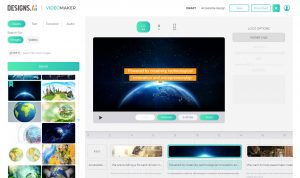 Kr: How does Designs.ai leverage AI for the creative process? You mentioned time reduction—how does AI make it possible?
WL: Videomaker uses computer vision techniques to classify raw images and videos into relevant categories. Then, with machine learning, it mines relevant keywords from a script and matches content to stitch together a finished video. Logomaker uses similar techniques to craft a brand identity and logo from selected preferences and brand information. It also utilizes AI to manipulate brand asset templates in accordance with a user's style guidelines.
Designs.ai optimizes the creative process for designers in two ways. The first is by analyzing vast amounts of data and suggesting millions of design adjustments using algorithms and machine learning. The second is by automating repetitive, low-level tasks such as refinement and size adjustments to allow designers to focus on the bigger picture. AI can assist in the crucial parts of a designer's creative process, particularly in the stages of conceptualization, strategy, and execution. Tasks such as color matching and font pairing can be done easily.
The key thing is AI is not going to replace designers. Our goal is to empower everybody, including creative professionals, by taking care of the basic content so they can focus on the value-adding stuff.
Kr: Nowadays, people might prefer video content over images due to the popularity of platforms like TikTok. How do you adjust to these changes and cater to clients' needs?
WL: Seeing the current economic climate, there will be a need to create content quickly and efficiently. Marketing teams in companies will have to produce four or five social posts a day, every week. This is how automation and AI will help agencies and marketing departments scale content creation without compromising quality.