Amit Gupta, 43, is a passionate serial entrepreneur who currently runs a technology-led urban mobility service Yulu, headquartered in India's Silicon Valley, Bengaluru.
Two-year-old Yulu provides electric bikes in four Indian cities where it is hoping to reduce traffic congestion by providing a clean solution for the first mile, last mile, and short distance commute. Gupta said he wants to replace big personal vehicles, with a smaller form factor that does not require fossil fuel.
Before Yulu, Gupta co-founded India's first billion-dollar global technology startup, InMobi, which provides mobile advertising solutions and competes with the likes of Facebook and Google in the mobile advertising space. In 2013, MIT Technology Review recognized InMobi as one of the top 50 disruptive companies in the world. Gupta is also a prolific angel investor having invested in multiple startups across India and the US.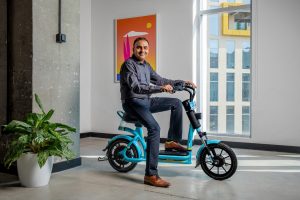 36Kr India had an enriching conversation with Amit Gupta. The below conversation is edited for the sake of brevity and clarity:
Kr: What prompted you to set aside a relatively comfortable zone at InMobi to launch Yulu?
AG: After co-founding InMobi and making it into a unicorn, I felt I had reached a plateau and wanted to do something challenging that could benefit our society. I zeroed in on Bangalore's worst problem: traffic. Short distance mobility in terms of first- and last-mile connectivity is an unsolved problem in India. And traffic generates 40% of air pollution in big cities. Yulu happened in August 2017, because of this problem. In a Chinese dialect, 'Yulu' means 'Simple' and I wanted a simple solution to this complex problem.
Kr: Does India have the potential to be a big market for micro-mobility bikes? What's the comparison with China?
AG: Urban development is happening in India under two umbrellas: the "to be developed 100 smart cities" and the "expansion of existing megapolises". It is understood that smart cities will be built with dedicated bike lanes as part of their infrastructure. Whereas existing megapolises like Delhi, Mumbai, Kolkata, Chennai, and Bangalore do not have bike lanes and may get them soon.
As more bikes come into play, the lanes will be built. When bike lanes are built and used, the Government will benefit from RoI of their infrastructure. Thus the potential for micro-mobility bikes is huge.
We cannot copy the success of Chinese bike companies to India, as each country has its own infrastructure, culture and policy issues. We don't want to be China's Ofo, but we want to be Yulu of India.
India has slower growth but much larger potential than China. However, the lack of infrastructure in India will make the adoption cycle of e-bikes in India to be slower than that of China.
Kr: How many bikes do you have on the road and how is your presence across India?
AG: Currently there are 8,500 Yulu Move cycles and 2,000 Yulu Miracle bikes on the road. Over the next 18 months, we want to put 150, 000 Yulu Miracles on the road. By the end of 2020, we want to go live in 10 Indian cities. We are currently operational in Bangalore, Pune, Greater Mumbai, and Bhubaneshwar.
To start with we will run independently in a few cities, before getting into a partnership with local partners. Our short-term target over the next five years is to expand to 100 cities in India. The ambition is to spread to all the designated smart cities. Currently, we are running a pilot in one of the smart cities, Bhubaneswar. We will extrapolate the learnings from this seven-month-long trial to operate the business in other smart cities.
Kr: How big is your team?
AG: We have 85 employees in our Bangalore, Mumbai, and Pune offices. While Mumbai and Pune are operation centers, our R&D center is in Bangalore. There is a fully owned subsidiary of Yulu which has 200 people on the ground for repair and maintenance of Yulu bikes.
Kr: What are the challenges you face in the day-to-day operations of Yulu?
AG: Yulu bikes have to brave rain, harsh sunlight and theft. We are working on these hiccups. Our vehicles are cleaned every two days.
Safety is part of Yulu's business model. In the first six months of Yulu's operations, we lost 300 cycles. Every theft taught us a lesson and after corrective measures, now the loss rate is less than a percent. Unlike China where you can leave a bike anywhere, in India, there are dedicated parking zones located in relatively safe areas such as technology parks, housing complexes and metro stations which comes with security guards as part of their infrastructure.
Socio-economical issues, like the backlash from auto-drivers who feel Yulu has been eating into their business, have been plaguing the company recently. The consumer shift from autos to Uber and Ola, proved consumers will leave those who fleece them by charging Rs. 100 (USD 1.4) for one KM. The attack on our customers by auto-drivers is a law & order problem and we are in talks with the police and local authorities.
Kr: Where are the bicycles and the locks manufactured?
AG: The 'Yulu Move' hardware lock is manufactured in China whereas the designing of the lock is done in India. Our cycles' mechanical parts are manufactured in Ludhiana and Chennai. The Yulu app and backend are done by our engineers in India.
The 'Yulu Miracle' scooter, an electric bike, is built in China and assembled in India. Its battery pack is from India but cells are from China or Korea. At present Yulu Miracle runs with low speed, however, tomorrow we may come up with high-speed scooters or 3-wheelers or a product similar to a golf buggy.
Kr: Could you please elaborate on the technology that goes into the making of a Yulu.
AG: Yulu bikes run on technology comprising of IoT sensors, GPS, QR Code and SIM card. We are using IoT technology to create a vast network of shared dockless bicycles that can be rented easily by a user-friendly app in a pay-per-use business model.
Kr: What are the few innovations or experiments you are doing in the shared-mobility space?
AG: We are developing a skateboard type model which would only run in college campuses as road conditions in India are not compatible. We are also going to launch an e-bike which will be half mechanical and half battery-operated, similar to Helo Bike or Jump Bike of the U.S. We are also developing a three-wheeler for adults who cannot balance a two-wheeler. It will have two wheels in the front for better stability, than having two wheels at the back.
Kr: Any consumer feedback, which led to a change of design of Yulu bikes?
AG: Yulu bikes now have hooks to carry baggage. We will not add a carrier as it spoils the look and feel of the bike. People may sit on the carrier too—we do not want that as our bikes cannot carry two persons as the motor is not designed to carry such loads. It can take the load of one person and his or her baggage only.
Kr: Do you plan to raise funding soon?
AG: We were in talks with two China-based investment firms to raise the next round of money, but it did not materialize. At the moment we are talking to other funds and the deal will happen before the year ends.
Kr: Your parting shot on Yulu?
AG: We don't play to participate. We play to win. We want to peddle the change.