Vietnamese ride-hailing company FastGo announced its launch in Singapore back in March, saying it would start service by the end of April and enter Indonesia, Thailand, and the Philippines by the end of the year. Since then, the firm has been mum about its operation in Singapore.
Turns out, FastGo's mobile app was already available for download on both Apple and Google Play Store in Singapore, at least briefly, which gave KrASIA the chance to test it out.
A scan of the version history shows that an update one month ago added the "book car in Singapore" option, which means residents of Singapore now have one more option in addition to Grab, G0-jek, Ryde, and Tada.
When it announced its launch, FastGo didn't provide details on fares, but the company's founder and chairman Nguyen Huu Tuat indicated that "any FastGo ride will always be cheaper than the others".
Checking up on this claim, KrASIA compared prices between FastGo and the two dominant ride-hailing platforms in the city-state, Grab and Go-Jek.
We booked a standard ride to the new landmark of Singapore, Jewel Changi Airport, which is 21.5 km from One Raffles Place, a pick-up point in the central business district near KrASIA's office.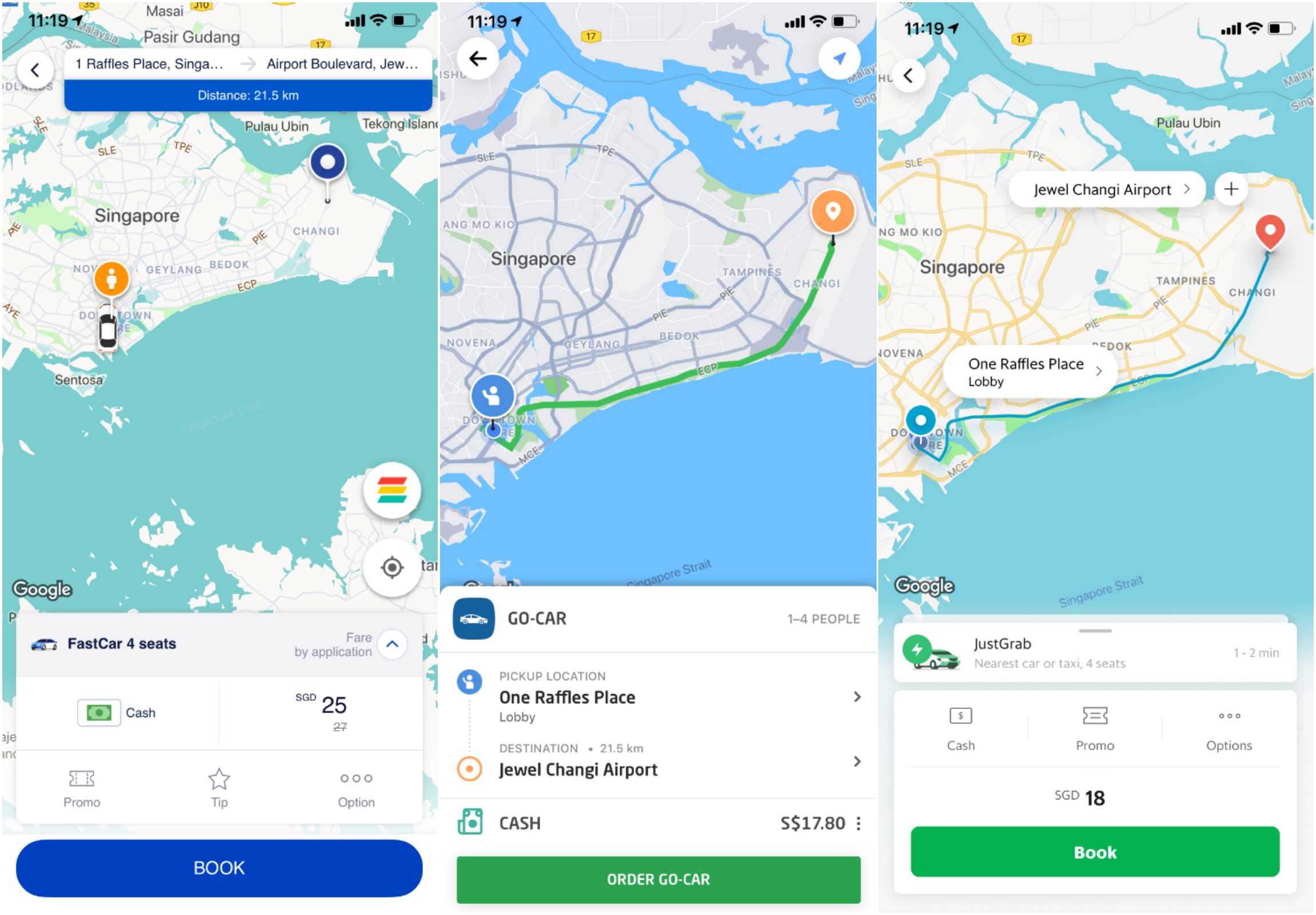 From left to right: FastGo, Go-jek, and Grab
A FastGo ride costs SGD 27 (USD 19.7) on this route. Even with a SGD 2 promotion (presumably, a welcome price), the ride is still significantly more expensive than Go-Jek and Grab's, which cost SGD 17.80 (USD 13) and SGD 18 (USD 13.2) respectively.
As for now, FastGo's fare is not cheaper than other operators as it previously claimed.
In the official statement released in March, FastGo asserted that it won't have peak hour surcharges. If true, this will set it apart from Grab and Go-Jek whose prices frequently hike up when there's high demand.
Founded in 2018 after Uber's exit from Southeast Asia, FastGo says it's quickly becoming popular amongst users in Vietnam. It has close to 60,000 drivers serving ten provinces in Vietnam and is currently also operating in Myanmar. Like other ride-hailing companies in the region eager to gain market share, FastGo is also looking to diversify to include food delivery and financial services. In its home ground, it even launched a helicopter ride service, FastSky.
Editor: Nadine Freischlad