When you think about China, there are probably a handful of cities that come to mind—Beijing, the national capital; Shanghai, for its modernity; Shenzhen, the country's tech hub, located next to the "factory of the world," Guangzhou. Do any others come to mind? Perhaps Xi'an, Chengdu, or Chongqing. Chances are that few people outside of China have heard about the capital of Anhui Province, the world's epicenter of LCD screens, and one of China's fastest-growing cities—Hefei.
Taking a unique approach to its development, Hefei has increased its GDP by over 2,600% in the past 20 years, from RMB 36.9 billion (USD 5.7 billion) at the beginning of the new millennium, ranking 80th in China, to over RMB 1 trillion (USD 154 billion) in 2020, becoming the country's 20th richest city in 2020. Hefei was also recognized as the third most attractive city in the eyes of foreign talent last year, according to the Chinese State Administration of Foreign Experts Affairs.
Home to nearly 9 million inhabitants, Hefei accounts for about 10% of all LCD panel shipments worldwide. The city hosts over 300 integrated circuit enterprises and has one of the most complete scientific research and production chains in China. It is where electric vehicle company Nio set up its China headquarters. Hefei has gone from a small town to an emerging first-tier city, according to the 2020 ranking of cities' business attractiveness compiled by Yicai Media Group. How did that happen?
The three investments that made Hefei what it is today
Hefei's strategy resembles the playbook of a venture capital firm. To promote its economy, local policymakers have established partnerships and injected money into strategic companies—LCD panel producer BOE, semiconductor foundry ChangXin Memory Technologies, and Nio—that have succeeded in bringing economic benefits to the city. Yet, this is only the tip of the iceberg, as the city carefully laid out a detailed business strategy around these three significant investments.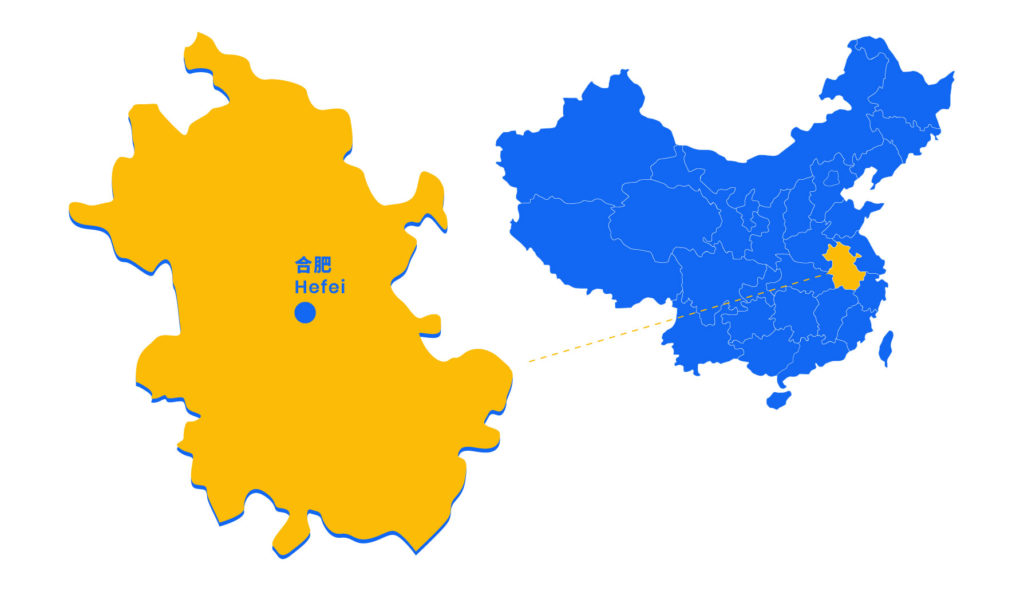 A USD 5.2 billion investment in BOE
In 2008, the local production capacity of color TVs in Hefei could only meet 30% of the city's demand. The TV screen supply chain was controlled by foreign companies, while the country did not have high-quality producers that could make a decent LCD screen—a component that accounts for 66% of a TV's total production cost. As a result, China was importing most of its TVs from overseas.
The situation started to change from 2008 when Hefei's provincial government made the first of its three big investments into BOE Technology Group Co., a firm that makes smart IoT systems and interface devices. BOE was founded in 1993. After accumulating an operating loss of over RMB 3 billion in 2005 and 2006, it raked in a profit of RMB 691 million in 2007 when it became the first Chinese firm with proprietary LCD intellectual property rights. The firm also benefited from a global increase of 30% in the price of LCD panels during the same year.
Recognizing the positive development of BOE, and with increasing demand for LCD panels in China and abroad, several Chinese cities—including Hefei, Wuhan, Shenzhen, and Chengdu—extended offers to BOE in 2008 to build new factories in their provinces, hoping to create significant job opportunities. Hefei won the bid by promising the company RMB 17.5 billion, of which RMB 6 billion came directly from the government, RMB 3 billion from investors, and the rest from local banks. BOE also chose to cooperate with the Hefei government thanks to the quick construction of a 10kV substation that would satisfy the new factory's electricity demand.
In 2010, BOE opened a 6th generation LCD plant that produced over 5,600 jobs for the city. Then, in 2012, BOE revealed a new product line for its 8.5 generation LCD panels and six years later, the company opened a new 10.5 generation LCD factory. The later the generation, the bigger the LCD panel is, allowing producers to manufacture products with larger screens and slice more display screens from a single raw panel. The local Hefei government injected an additional RMB 28 billion for the two new facilities, bringing its total investment into BOE to RMB 34 billion, or USD 5.2 billion.
Today, BOE ranks first in the world in the volume of display panel shipments, including LCDs used in smartphones, tablet computers, laptops, monitors, and TVs. In other words, one out of every four displays in the world is made by BOE, according to data from global market research organization Omdia. The company's shares trade on the Shenzhen stock market.
By any measure, this was a successful investment that created many jobs and healthy financial returns for Hefei. However, it raised many eyebrows at first, as the city had to halt a long-awaited subway project when it redirected funds toward BOE. The fallout of the global financial crisis in 2008, which slashed the prices of LCD panels and sent BOE into the red, added fire to the flames. Yet, city officials responded firmly by sticking with their investment plans into BOE, which now contributes to the city's long-term economic development.


The second big investment: ChangXin Memory Technologies
After the success with BOE, the Hefei government set its eyes on the semiconductor industry in 2016. Hefei's investment task force, however, had to start from scratch to build a supply chain for semiconductors. The city planners decided to focus on the production of dynamic random access memory (DRAM), a type of semiconductor memory that is in all manner of devices and hardware, like mobile phones, computers, and servers. Hefei's officials sat down with then CEO of GigaDevice Semiconductor, Zhu Yiming, to discuss the creation of a manufacturing plant for DRAMs.
The two entities agreed to set out a new project, internally named "Project 506," in which the Hefei government would inject RMB 14.4 billion, while GigaDevice promised an investment of RMB 3.6 billion. GigaDevice Semiconductor, founded in 2005, was at the time already a local industry leader in flash memory chip products. Yet, it lacked in-house technology capacity to produce DRAM chips. As part of Project 506, the Hefei government established three wholly-owned entities in late 2017: Hefei ChangXin, ChangXin Memory Technologies (CXMT), and Innotron Memory. To gain insight into DRAM chips and start production, CXMT purchased technical documents and DRAM-related data from Qimonda AG, at the time the second largest DRAM company in the world.
In July 2018, a 12-inch DRAM (wafers mainly used for manufacturing high-performance chips such as CPUs, logic ICs, and memory used in tablets, PCs, and phones) manufacturing plant started production, while Zhu Yiming resigned as CEO of GigaDevice to take office as the CEO of CXMT and Innotron Memory (while remaining as GigaDevice chairman). In 2019, CXMT opened a new production line to produce 8GB DDR4—a newer mainstream DRAM product at that time. Reportedly, the plant employs over 3,000 staffers, while there are plans to build two more DRAM fabs.
GigaDevice, which initially didn't accomplish its promised 3.6 billion investment into CMXT, finally injected RMB 300 million in Hefei ChangXin, a holding company, in the form of convertible bonds in April 2019. As of today, it remains an important distributor of CXMT, while the two companies also carry out joint efforts in product innovation. Zhu Yiming is still the leader of both companies.
The rapid development of CXMT and the government's support helped to attract an influx of integrated circuit enterprises to Hefei, which now counts over 300 semiconductor companies in its territory. The city is also currently listed by the Chinese Ministry of Industry and Information Technology as one of the nine largest integrated circuit cluster development bases in China.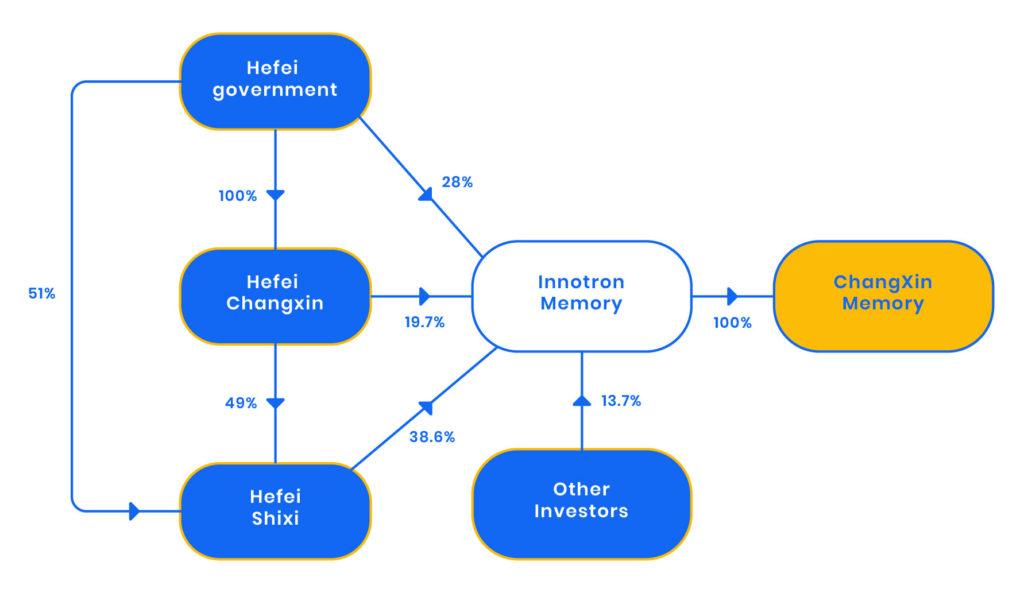 Rescuing Nio
Perhaps, the riskiest move made by Hefei's government was its RMB 7 billion investment into EV maker Nio in 2020, when the firm's sales dived and its shares hit a record low of USD 2 apiece on the New York Stock Exchange.
In February 2020, Nio was on the verge of a financial collapse. But it signed a framework agreement with the Hefei government to set up its China headquarters in the city and build new research, sales, and manufacturing facilities. Nio obtained an RMB 7 billion cash infusion from several state-run capital entities encouraged by the city's wider business strategy. Nio and Hefei also agreed to build the Hefei Xinqiao Smart Electric Vehicle Industrial Park. This facility will integrate R&D, manufacturing, pilot demonstrations and applications, and industrial support services for the EV industry.
Nio began mass production for three EV models in Hefei. The company's shares hit a high of USD 66.99 in early January 2021, a jump of more than 3,000% compared to the price at which the Hefei government sealed the investment. Nio even momentarily surpassed BMW to become the fourth largest car company in the world in terms of market capitalization. Even after a slide, Nio still ranks among the top ten automakers worldwide by market capitalization.
Hefei reportedly raked in more than RMB 100 billion in this deal. Municipal committee secretary Aihua Yu said during an interview with state media outlet CCTV in June that the city "made a lot of money out of Nio," although officials have not disclosed specific numbers.
The success of Nio in Hefei has attracted other major car companies to the city. Volkswagen Group's joint venture with China's Anhui Jianghuai Automobile Co announced in 2019 an investment of RMB 5.06 billion in Hefei to build a new EV factory, according to Reuters.
"Only governments look through the mist. No investors in the market offered a helping hand when we were on the brink of death," Li Bin, founder and CEO of Nio, told local media in May 2021, referring to the support provided by Hefei to his company. "Anhui Province and the Hefei municipal government reached out to help us at the most critical time. Within six months, Hefei also made a very good return on investment," he added.
Hefei's bold investment strategy yielded returns that outperformed even those of venture capital funds and private equity stakes. Part two of this report covers the lengths to which government officials went to vet their target portfolio companies and eventually attain record-setting growth.