India is turning out to be the right bet for ByteDance. The global downloads of ByteDance's short video duo TikTok and Douyin have crossed two billion downloads globally, driven by its popularity in the South Asian nation, shows the data collated by San Francisco-based marketing intelligence platform Sensor Tower.
India accounted for almost a third of the total wordwide downloads for TikTok.
China is the No.2 country for installs, accummulating 196.6 million to date, or 9.7% of all downloads, for the domestic version of TikTok known as Douyin.
"India has been the biggest driver of TikTok installs, generating 611 million to date or 30.3% of the total," Craig Chapple, Mobile Insights Strategist at Sensor Tower, said in a post on Wednesday. "China was ranked second, accumulating 196.6 million to date, or 9.7% of all downloads. At 165 million downloads, the United States is third in line in terms of apps installed."
Since its entry in India in 2017, the Chinese giant has taken some huge bets despite the regulatory hurdles it faced in the country. In 2018, ByteDance invested USD 100 million in India, while last year it said it would invest USD 1 billion in the country over the next three years. TikTok's popularity has soared in the South Asian nation over the last couple of years, riding on its eye-catching user-generated content and high-tech algorithm that targets users effectively, offering them what they might be interested in.
As the healthcare pandemic forced millions of people to stay indoors, TikTok saw a further surge in demand. A Techcrunch report, citing data from research firm Apptopia, said TikTok was downloaded 20.2 million times in India in a 31-day period ending April 12.
"While TikTok was on the ascent before 2020, the app has hit new levels of popularity so far this year. Its record-breaking Q1 came during a global pandemic, leading in part to an increase in downloads, engagement, and revenue," said Chapple. "The continuous rise of TikTok gives it an ever-bigger foundation to not only enjoy success for the short-term, but build for the long-term to keep competitors—both existing and emerging—at bay."
Meanwhile, Facebook has been preparing to launch its short video app, Lasso, in India in the first quarter of this fiscal year. TikTok has been playing a catch up with the American social-networking giant in India since 2018. However, that goal is still far away. According to App Annie, while Indians spent 5.5 billion hours on the Chinese short-video sharing platform in 2019 as compared to 900 million hours spent a year before, Facebook saw total hours spent on the platform go up by 15% to 25.5 billion hours last year. The number of monthly active users (MAUs) on TikTok reached 81 million as of December 2019, whereas Facebook's MAUs crossed 224 million.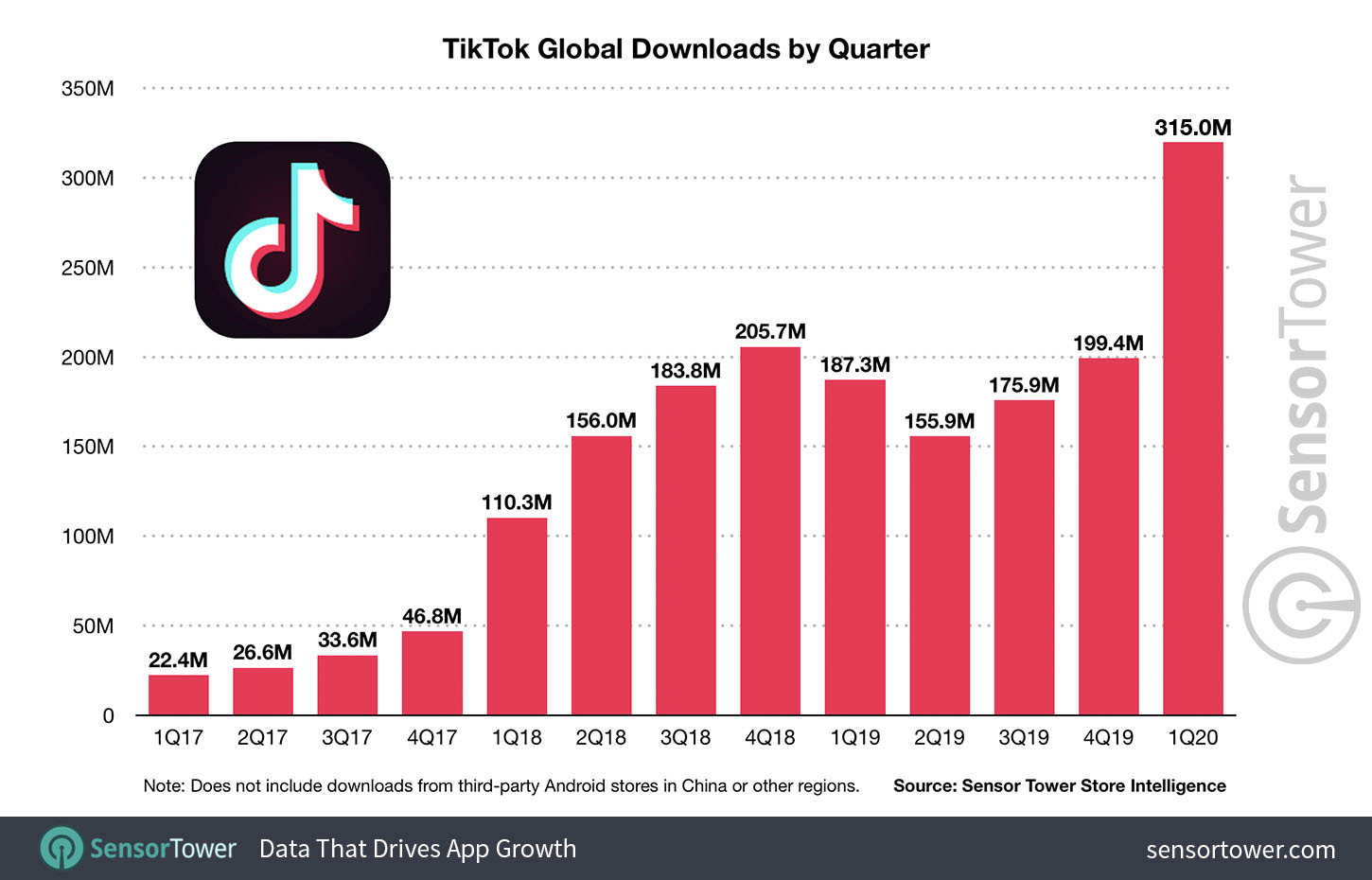 Over 75% of the two billion app downloads for TikTok came from Google's Play Store which accounted for 1.5 billion installs. Whereas, App Store contributed only 495.2 million downloads, Chapple said in the post.
He added, "lifetime user spending in TikTok has risen to USD 456.7 million, more than 2.5 times the USD 175 million the app had generated when it reached 1.5 billion downloads."
China has been TikTok's top revenue contributor, generating USD 331 million, or 72.3% of the total revenue to date. It was followed by the US, with users spending USD 86.5 million, or 19% of the total, while Great Britain ranked number three, accumulating USD 9 million in revenue.
In terms of a mobile operating system, the App Store "accounted for most of the revenue, accumulating USD 435.3 million from user spending," the report noted. "Google Play, meanwhile, generated USD 21.4 million in revenue."