Nasdaq-listed Luckin Coffee's share price fell 75.57% to USD 6.40 as of market close on Thursday, after the company submitted a filing to the US Securities and Exchange Commission (SEC) announcing an internal investigation into the conduct of former chief operating officer (COO) Jian Liu, who is believed to have inflated revenues by RMB 2.2 billion (USD 310.5 million).
Luckin (NASDAQ: LK) also stipulated that law firm Kirkland & Ellis will provide independent counsel during the investigation, and advised investors to disregard financial results and guidance from 2019 until the full extent of misconduct can be identified.
The now-suspended Jian Liu served as Luckin Coffee's COO since May 2018, having previously worked with Luckin's CEO Qian Zhiya at Car Inc. from 2008 to 2017.
On January 31, questions about the legitimacy of Luckin's financial results were first raised by diligence-based equity research firm Muddy Waters, which revealed their short position on Luckin via Twitter, citing an 89-page anonymous report supported by 11,260 hours of store traffic video footage. The specific reference to tracking in-store video suggested the embellishment of sales.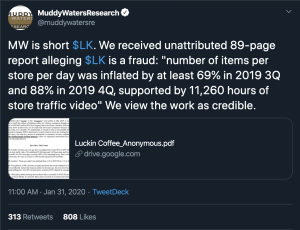 Just days later on February 3, Xiamen-based Luckin responded to the short attack, refuting the "misleading and false allegations" in another SEC filing, KrASIA reported. At the time, the on-demand beverage startup claimed that all of its "key operating data, including the number of items per store per day, items per order, and effective selling price, are tracked in real-time and could be verified."
About a month later on March 6, 10 US law firms announced they were prepared to file a lawsuit against Luckin Coffee on behalf of investors. Specifically, these American investigators were looking into the potential fabrication of certain financial and operating metrics, including per-store per-day sales, net selling price per item, and advertising expenses.
Luckin Coffee has performed well since its IPO that raised USD 645 million in May of 2019, climbing from an opening price of just over USD 20 to a peak of around USD 50 in January. The fallout from Thursday's announcement erased what was a 54% gain since IPO, slashing the company's market cap by almost USD 5 billion.
Despite the impact of the coronavirus pandemic, Luckin Coffee's 2020 outlook was positive, as analysts had expected a 170% year-on-year increase in sales before news of the investigation broke. In addition, at the end of the fourth quarter of 2019, 33 of the hedge funds tracked by Insider Monkey held long positions in Luckin Coffee, an increase of 43% from the previous quarter. Luckin Coffee chief financial officer Reinout Schakel said in an interview last November that the company is on track to become profitable by the third quarter of 2020.
The company has established the largest network of coffee stores in China as of the end of 2019, surpassing industry incumbent Starbucks. However, it might take some time for Luckin's management to repair their credibility in the eyes of investors.