If you've been on TikTok this holiday season, you may have seen some of your favorite TikTokers open mystery boxes from a platform called MyyShop.
While the average consumer might not have heard about MyyShop, the platform is making waves among social media influencers due to its free storefront builder for content creators on TikTok and Instagram.
MyyShop sent boxes that contained an assortment of items like makeup and home accessories to content creators in a campaign that took place from December 19 to 31. These gift boxes were then unpacked by the content creators on video to showcase the MyyShop products.
Some creators who were involved in this campaign include Jake Warden, a makeup influencer with 3.4 million combined followers on TikTok and Instagram, and Jade Amber, who has about 2.5 million followers. This campaign is expected to reach more than 10 million potential consumers at its height, bringing in new traffic for cross-border sellers during the festive season.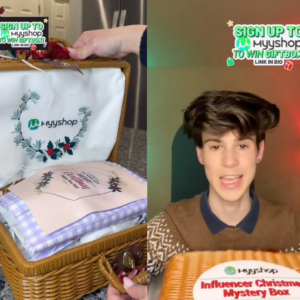 The real gift, however, is empowerment for these content creators. "MyyShop is a platform built to support content creators who have loyal communities but lack the time and resources to run fully fledged e-commerce businesses," said Diane Wang, CEO of MyyShop. "We want to break down this barrier and realize the potential of this untapped creator economy."
MyyShop lets users curate popular items from TikTok shops worldwide and build their own storefronts with one-click listings and set their own prices.
The platform allows content creators to take a step beyond the current passive, low-income model of using affiliate links to earn commissions. It empowers them to earn more with their promotional content without having to invest time and energy into building a conventional business.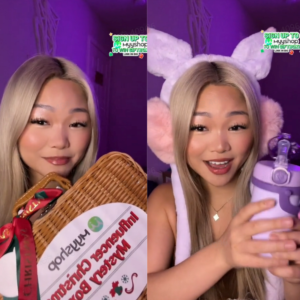 Instead, they can add products from the supplier directory, which has over 4 million products in total, to their MyyShop storefronts with a single click. MyyShop also has an AI-assisted analytics tool that can help users choose profitable products that are trending or have the highest sales.
"Creators expanding into e-commerce want a comprehensive, all-in-one solution," said Wang.
MyyShop is a pioneer in this aspect, combining different tech tools into one platform. This includes one of the world's most powerful engines for product data on TikTok, so users know which products are profitable in real-time. MyyShop also lets users create user-friendly, high-performance online stores for free in minutes without buying a domain or hosting a website.
This move comes at a time when the e-commerce industry is doing extremely well. E-commerce generated USD 724 billion in 2022 and has an expected compound annual growth rate (CAGR) of 30.8% from 2022 to 2030. Notably, many of these sales were generated by brands using content creator marketing.
The next natural step is to bridge the gap between content creator marketing and the actual sale by shortening the purchasing process. This is also known as social shopping, where the retail experience is shared with friends and contacts. With this, content creators will become a driving force in the economy.
"Even in light of a turbulent economy, we expect to generate USD 3.8 billion in the next three years by partnering with influencers and content creators," said Wang.
This article was contributed by DHgate and edited by KrASIA.