China's largest private courier SF Express has launched a community group-buying mini program on WeChat, called Fenghuotai, adding its name to the list of well-known companies entering the red-hot sector, Chinese media outlet National Business Daily reported on Tuesday.
Customers can order a wide variety of goods, ranging from vegetables, fruits, rice, flour, edible oil, to meat, snacks, and pick them up later at a physical location, as usual for the group-buying services, or via delivery with a courier at home, which is new for the industry.
The app however didn't seem to be fully functional yet, KrASIA found on Wednesday. For example, there are only pumpkins in the vegetable category and very limited choices for fruits and seafood.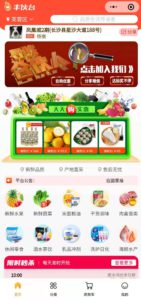 "SF needs to improve the supply chain for Fenghuotai and for that, may turn to Benlai Shenghuo for help," Zhuang Shuai, a retail veteran and founder of Bailian Consulting, told KrASIA. Benlai, a fresh goods-focused e-commerce platform established in 2012, received funding from Mingde, SF's largest shareholder, in 2019.
Aside from the inadequate supply, there are other deficits. On the platform, which is available in cities including Shanghai, Beijing, Zhengzhou, and Changsha, only express delivery is currently bookable. In order to catch up, Fenghuotai is recruiting retail store and hair salon owners, as well as individual group-leaders who are backed by a WeChat group with at least 100 members.
SF is appearing late in a market, that S&P Global Ratings estimates at RMB 130 billion (USD 20.1 billion) in 2020 and expects to grow by 50% to 60% this year.
The sector has become crowded with companies including Xingsheng Youxuan, the startup that first invented the next-day pick-up model, Pinduoduo's Duoduo Maicai, Didi's Chengxin Youxuan, as well as JD.com's Jingxipinpin and Meituan Youxuan.